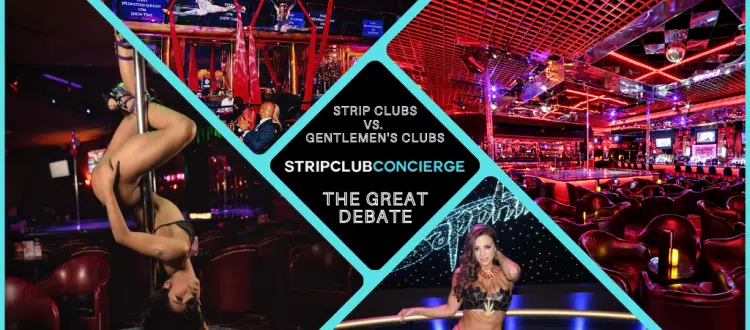 Gentlemen's Club vs Strip Club: What's the Difference?
The debate – and ultimate choice – between the Strip Club and the Gentlemen's Club has been around for years. While some key differences exist, the two terms are often used interchangeably today.
Choosing one or the other will ultimately come down to the appropriate vibe for you and your group.
Here, we'll take a look at the main differences between the two types of clubs, and then help you decide.
Let's start with the basics.
What is a Gentlemen's Club?
A traditional Gentlemen's Club, also known as a private club, is a type of members-only social club that usually caters to wealthy and influential men.
These clubs are typically exclusive, with very few memberships available and a high price of admission. Traditional Gentlemen's Clubs often have a strict dress code and are known for their luxurious surroundings, including dark wood paneling, leather furniture, and rich tapestries.
Historically, a Gentlemen's Club was a private social club set up for upper-class British men in the 18th century and popularized by English upper-middle-class men in the late 19th century and early 20th century. These clubs were often considered a place where gentlemen could socialize, network, and escape the public eye.
While strip clubs have become more popular in recent years, a few modern "gentlemen's clubs" (basically a more VIP, nightclub-like experience with strippers) still maintain a level of exclusivity and sophistication.
Side note: the correct expression is "Gentlemen's Club," not "Gentleman's Club." Neither "Gentlemens" nor "Gentlemans" without the apostrophe are correct, although you'll see all four of these variations in everyday use. Oh and while we're at it: it's "Strip Club," not "Stripclub."
What is a Strip Club?
Strip Clubs are typically more casual than Gentlemen's Clubs and do not have a strict dress code.
They are also less exclusive, with entry typically available to anyone who is willing to pay the cover charge. Conversely, some Gentlemen's Clubs may require patrons to dress in business casual or semi-formal attire.
Strip Clubs are open to both men and women, while Gentlemen's Clubs (historically) were for men only.
Because of societal changes, and a steering away from exclusivity and elitism, most gentlemen's clubs have essentially transformed into strip clubs.
Comparing a Gentlemen's Club and a Strip Club
Now that we have a basic understanding of each type of club let's compare and contrast the two.
Breaking it down, the main differences between a Gentlemen's Club and a Strip Club are:
The Atmosphere and Club Decor
Strip Clubs are known for their more casual and laid-back club decor. This is in contrast to the more luxurious and upscale atmosphere of a Gentlemen's Club.
Expect finer finishings like chandeliers, hardwood floors, and big comfortable chairs in a Gentlemen's Club. A Strip Club might have these things too, but they will likely be more subdued.
The club atmosphere is often dictated by those attending the club.
Strip Clubs bring in more bachelor parties and big groups, creating a more wild atmosphere. Big crowds can make it harder for personal experiences without putting up some cash.
Conversely, a Gentlemen's Club will have a more relaxed feel. You'll be among people socializing and enjoying conversation without the rowdy atmosphere.
Food and Drinks
Strip Club patrons typically order drinks from the bar and receive lap dances or other personal services. The focus is certainly not the food when you are at a Strip Club.
On the other hand, Gentlemen's Clubs usually offer a full dining experience with table service. This allows club-goers to enjoy a meal while also socializing and networking with other members.
Because Gentlemen's Clubs are upscale establishments, the food generally matches the rest of the atmosphere. You can expect things like prime rib, lobster, and other decadent dishes.
Quality and Type of Dancers
The quality and type of dancers you will find at each club also differ. Gentlemen's Clubs are known for their more sophisticated and classy dancers. They also tend to have a higher quality of dancer overall.
Because the atmosphere isn't as "party" motivated, you will have much more opportunity for individual conversation and interaction with dancers.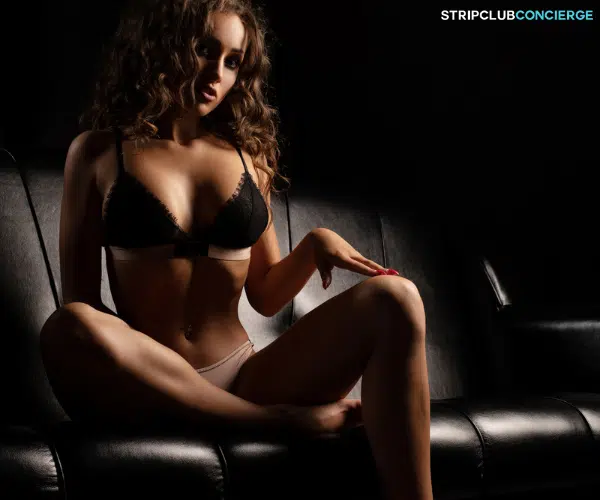 On the other hand, Strip Clubs will have a wider variety of dancers.
This includes everything from your more traditional "sexy" dancer to a variety of curves and figures.
Accordingly, the dancers at Strip Clubs are typically less clothed than those at Gentlemen's Clubs. You are also more likely to be pressured into purchasing lap dances or private rooms at Strip Clubs.
Pricing and Costs (Money)
True Gentlemen's Clubs are more exclusive, sometimes offering annual membership fees to get special benefits and perks. This discourages less refined clientele and lends itself to a targeted, repeat customer base.
Strip Clubs tend to be less expensive overall. But don't let the lower entry prices fool you. They will still find a way to make up the cost with drink prices, lap dance, and additional services.
Dress Codes
Strip Clubs typically have a less strict dress code or a dress code that is not enforced at all. There is general Strip Club dress code etiquette that should be followed.
Gentlemen's Clubs will often have a strict dress code that must be followed. This dress code is usually business casual or semi-formal.
Types of Clientele
One key difference between a Strip Club and a Gentlemen's Club is the type of clientele they attract. Strip Clubs are typically frequented by men who are looking for a sexual rise, while Gentlemen's Clubs are more likely to be visited by businessmen or other wealthy individuals.
A Strip Club is the more likely of the two to host bachelor parties and other big groups. You will find yourself rubbing shoulders with a wider variety of people at a Strip Club.
A Gentlemen's Clubs is thought to be where business deals are made, and networking happens. Because these clubs often require an annual membership fee, they will attract wealthier clientele.
Las Vegas Gentlemen's Clubs
Strip Club Concierge is your go-to resource for all Strip Clubs and Gentlemen's Clubs in Las Vegas. Listed below are our opinions on the top Gentlemen's Clubs, Strip Clubs, and Gentlemen's Strip Clubs straddling the line in between.
Treasures
Treasures is one of the most well-known Gentlemen's Clubs in Vegas. This club features beautiful dancers, quality steakhouse dining, and a relaxed atmosphere perfect for socializing.
Reserve Free Limo to #1: Treasures
Centerfolds Cabaret
Centerfolds Cabaret is another excellent Gentlemen's Club in Vegas. They offer a more high-end experience (including an award-winning burlesque show) complete with stunning dancers and luxurious VIP treatment.
Sapphire
Sapphire is the largest Gentlemen's Club in Vegas (and the world), and definitely worth a visit. With over 70,000 square feet of space, there is plenty to explore. They also have a variety of high-quality food options available.
Crazy Horse III
Crazy Horse III is a great option for those looking for a more upscale feel. This club features gorgeous performers, top-notch service, and a variety of VIP packages.
Spearmint Rhino
Spearmint Rhino is definitely on the more exclusive side, and appropriately labeled a Gentlemen's Club. Part of a brand existing in many cities, this club features quality entertainment and upscale club decor.
The Library
The Library is a relatively new Gentlemen's Club but has quickly become a Vegas favorite. This club has a very upscale atmosphere and performances you won't want to miss.
It's also the only officially full nude and 18+ establishment in Las Vegas that can be considered upscale ("full nude" designation usually means a lower quality venue). As such, no alcohol is served here (city law).
Sophia's
Sophia's is a great honorable mention. This club has a more cozy, relaxed atmosphere but a very strict dress code.
Las Vegas Strip Clubs
Below we've highlighted our favorites among the Strip Clubs in Vegas.
Want more info? Check out our complete guide to the best.
Hustler
Although a Strip Club, Hustler is still a great spot for those looking for a slightly more upscale experience. This club features both female dancers and a male revue, and 16 ultra-private "Hustler Honey" suites on the 2nd floor.
Reserve Free Limo to #1: Hustler
Peppermint Hippo
This one's also close, as this Downtown Vegas strip club could best be called a Gentlemen's Strip Club, having elements of each. The tiebreaker is the fact that Peppermint Hippo caters to a more casual and fun atmosphere with lower priced amenities than some of the higher end gentlemen's clubs on the list.
Scores
Scores is a great Strip Club, but has had variable quality in service and entertainment talent in recent years. They are currently expanding their venue and we are excited to see the results.
Deja Vu
Deja Vu is a top Strip Club in Vegas with the cheapest drinks around. Get $2 drinks and save your cash for the many VIP packages.
Little Darlings
Little Darlings is a full nude Strip Club. However, they can't serve alcohol. A great club for the experience, but not so much for getting your buzz on.
Diamond Cabaret
Similar to Little Darlings, Diamond Cabaret can't serve alcohol. This fully nude club is worth visiting for those out of town.
Palomino Club
Grandfathered in as the only fully nude Strip Club with both alcohol and fully nude dancers. Palomino Club is a landmark for those visiting North Las Vegas.
Which Should You Choose?
While the line between Gentlemen's Clubs and Strip Clubs has become blurred in recent years, there are nevertheless a few crucial distinctions. Understanding these differences can help you decide which club is right for you. You can also contact us today to help book your group and decide which Las Vegas strip club suits you the best.
In short, it boils down to the atmosphere, exclusivity, type of dancer, and cost.
Historically, Gentlemen's Clubs were intended for wealthy men to socialize in an upscale setting. But over time, they have become more like Strip Clubs in many ways.
The truly traditional Gentlemen's Strip Clubs are few and far between in the modern age. But the ones we've pointed out above will help you relish in one of history's finest traditions.