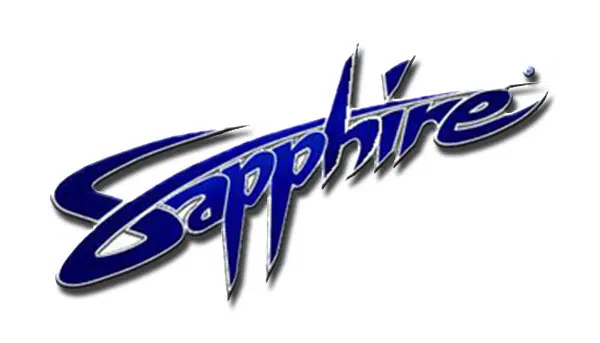 Sapphire Las Vegas [Official Guide]



VIP Front of Line Admission
Valid /w Package Purchase
Largest in Vegas at 80,000 Sq. Ft.
Book Now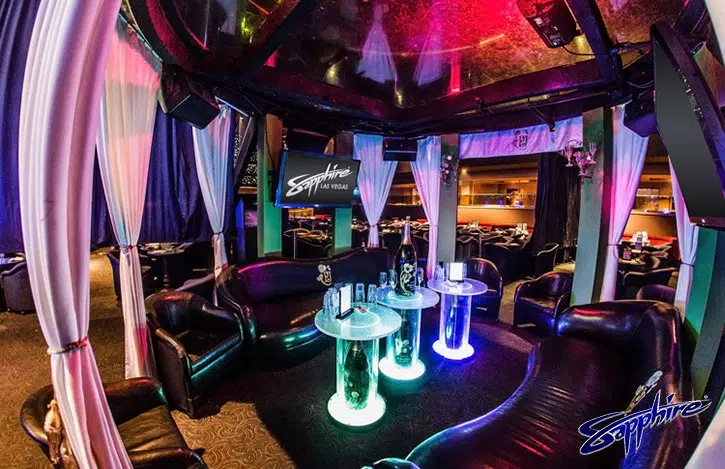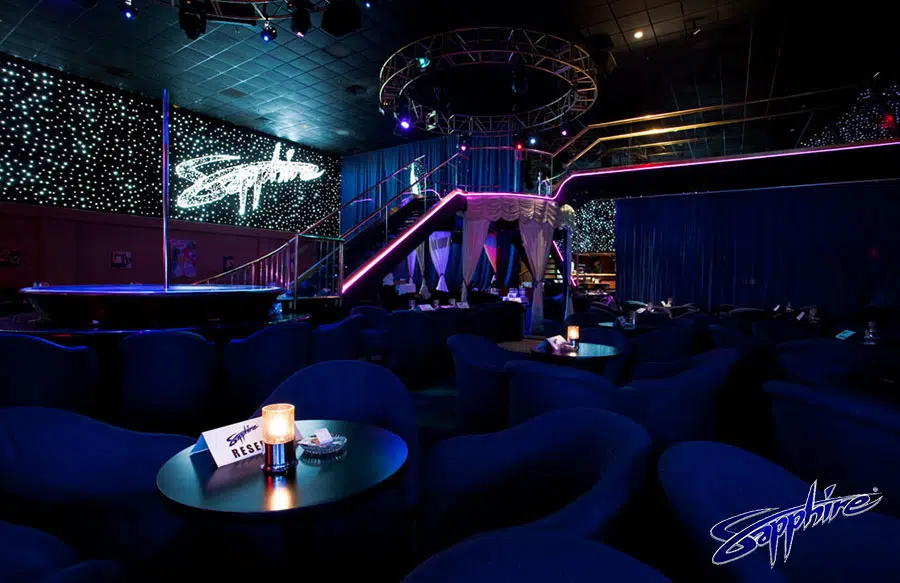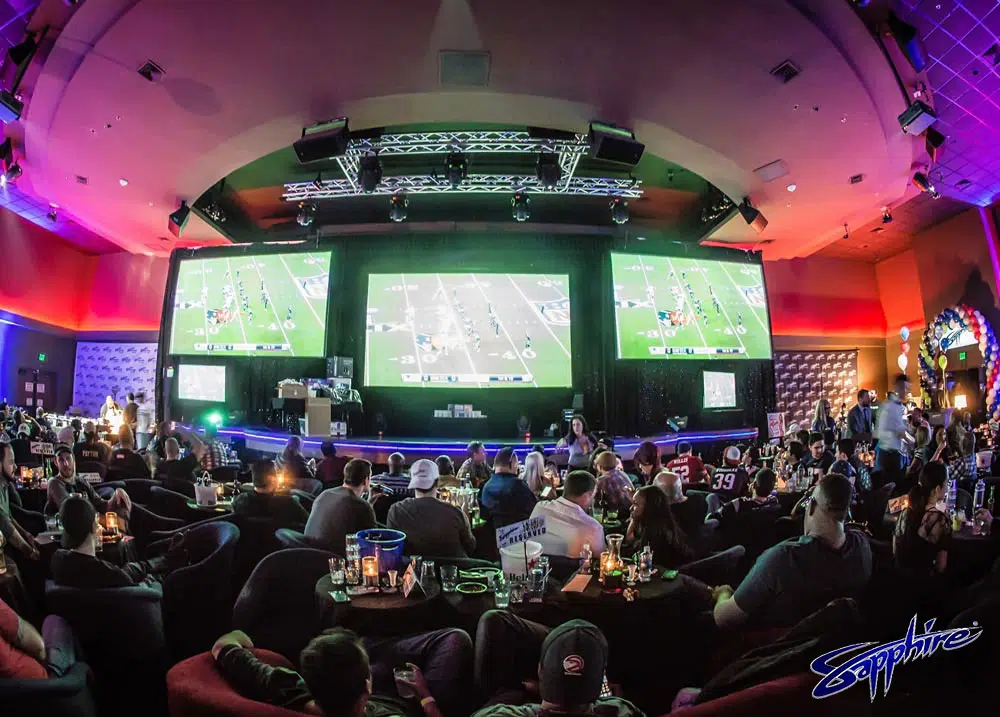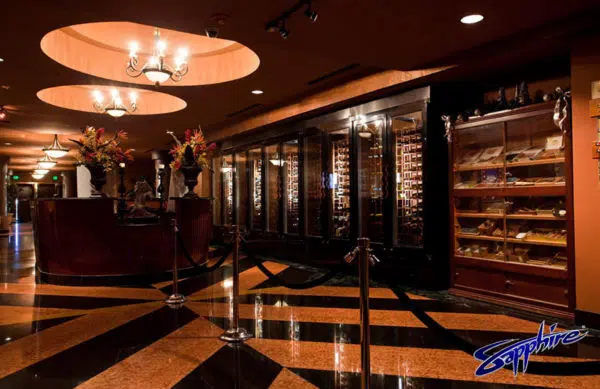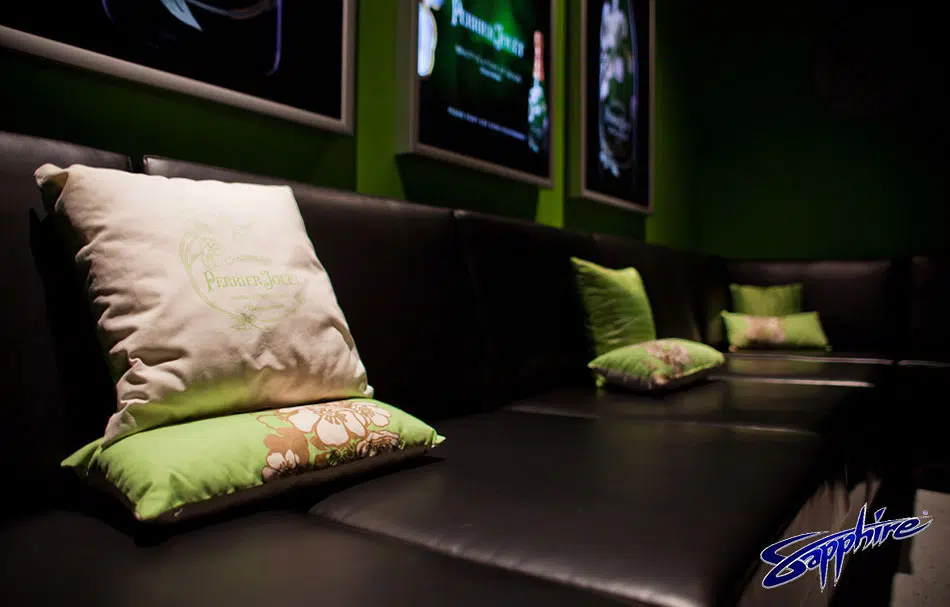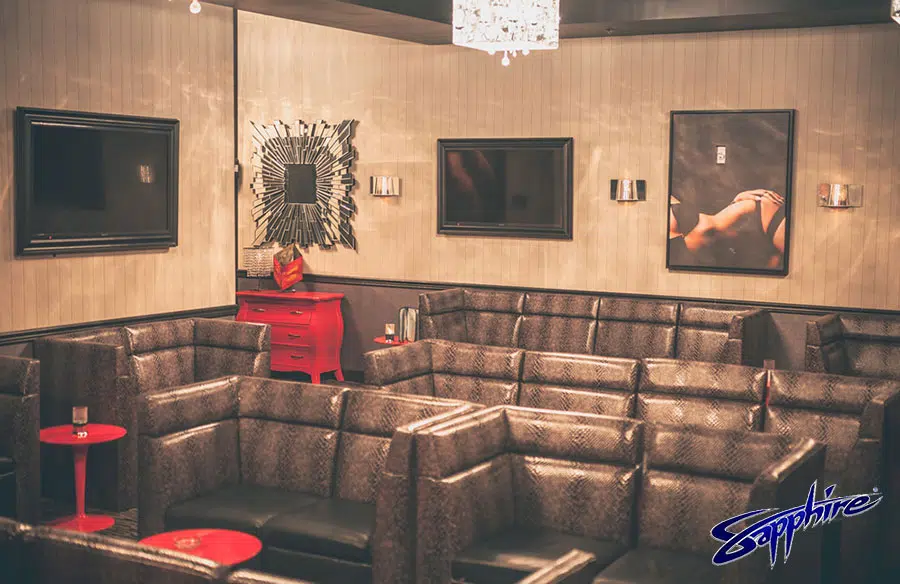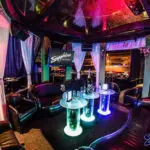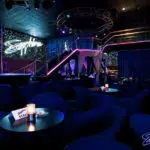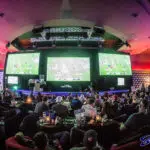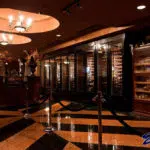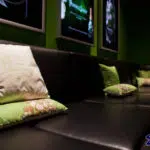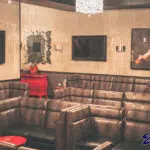 In Vegas, Sapphire is King. Coming in as the world's largest gentlemen's club with 70,000 square feet of space, Sapphire Las Vegas is affectionately called the "The Walmart of Titties" by the locals.
You can't go wrong booking Sapphire as a stop on your Las Vegas strip club tour, and you're bound to find something you like.
Sapphire Hours and Info
Hours: 6pm – 6am, 7 days a week [Updated for 2023]
Best Nights to Go: Fridays and Saturdays
Busiest Hours: 8pm – 2am
Bottle Service / VIP Pricing: $-$$
Music: Hip Hop & Top 40
Dancer Quality: 8/10 and Up
Coolest Features: Largest in Vegas (70,000 Sq. Ft.), Multiple VIP Rooms, Hottest Dancers
Coolest Features: Deluxe Central Stage, Private VIP Rooms, Intimate & Upscale Vibe
Dress Code: NO shorts of any kind, sweatpants, tanktops, flip flops, or sandals. See our general dress code guidelines.
2024 Sapphire Bar & Bottle Credit Packages!
We are excited to announce that the #1 strip club in Vegas is now open again for reservations! New prepaid bottle packages are available and selling out nightly. Sorry ladies, female dancers only at this time.
Book online with us for the guaranteed best rate and as always, receive completely free transportation (Limo, Tesla, or Sedan based on group size) and free VIP entry with your purchase!
Upon booking, you'll receive a link from the venue to checkout and pay for your deal.
Where is Sapphire Located in Las Vegas?
Sapphire is located between the Strip and Downtown Las Vegas off of Industrial Road. This area is a hotspot for many of the best Vegas strip clubs, however it's not very walkable on foot. The exact address is: 3025 Sammy Davis Jr. Dr, Las Vegas, NV 89109.
While less than 5 minutes away by car, Sapphire strip club isn't in the best of areas, so we would advise against walking it from nearby Wynn/Encore or one of the North Strip hotels like Circus Circus.
Getting to Sapphire: Free Pickup at your Hotel
Please never take a taxi, Uber, or Lyft to a strip club in Las Vegas.
You'll be charged a whopping cover at the door and very often lied to, or brought to a totally different strip club. Read more about this ongoing cab and rideshare scam here.
Through our service, Sapphire Las Vegas guarantees a free pickup for your group as part of any of our entry packages. That means a Limo, Tesla X, or Sedan will come to your hotel to personally escort your group to the venue (model based on availability).
You'll also pay no cover when you arrive through these packages.
Skip the Line
You heard that right: with us you receive free strip club admission, and no wait at the door.
A Sapphire VIP Host will personally walk you in for us at the door when you arrive, allowing you to skip the line of people who arrived by other means.
The only thing you'll pay for is your drinks through any of our entry packages (see prices below).
Sapphire Las Vegas Entry Packages
If you're looking to visit Sapphire on a budget, you can't miss out on one of our prepaid deals (updated for 2024). Our deal includes seating for your group in addition to the package contents.
Is Seating Included?
Each and every one of Sapphire's all-new prepaid entry packages comes with seating for your entire group.
No need to worry about reserving a seat, you'll have a VIP table (or two) all to yourself.
Will I Get a Return Ride?
Per Sapphire policy, only your ride to the venue is included as part of your chosen package. They don't offer a return ride in general.
But Sapphire is great about calling a ride for you if need be, and taxis are always waiting outside for a quick escape back to the hotel 🙂
Call us anytime at 702-755-1766 for questions about your reservation, or to speak with a specialist about booking.
Sapphire Drink Prices
How much are drinks at Sapphire? After your entry package drinks are finished, you can expect to pay $15-20 for your average cocktail inside. It's pricey, we know. But this is standard pricing on the Las Vegas scene.
If you plan to go all out, it may be a better option to book an open bar package.
Sapphire Las Vegas VIP Packages
Sapphire offers, by far, the greatest variety and selection of VIP packages of any Las Vegas strip club. No matter what your budget, occasion, group size, or preferences you'll likely find the perfect package to suit your needs.
Open Bar and Drink Card Packages
Sapphire does offer a few open bar and pre-paid drink card packages, which include a VIP Table in the main room. It's important to note that all of these deals have to be pre-paid via PayPal before your arrival at the club.
They can be booked weeks in advance or even the night of, but they must be prepaid in order to get the specified deal.
FREE Pick-Up
$100 Drink Card
No Cover Charge ($50-60 Value)
VIP Table Main Floor
Bonus: 1x Comp Shot
While these packages do guarantee a table for the night, we still recommend going with one of the cheaper entry packages above. If you need more drinks, you can always buy them a la carte at approximately the same price as you'd pay here.
Sapphire's pre-paid bottle service packages are really what make going VIP worth it. We strongly suggest choosing either the discount entry packages, or upgrading to a true VIP bottle service experience, possibly even in one of Sapphire Las Vegas' many themed VIP rooms.
Sapphire Bottle Service
All of Sapphire Las Vegas' bottle service packages include a VIP Table in either the main room, or one of its several private "themed" rooms: the Skybox, the Rockstar Room, the Karaoke Room, and the VIP Room.
You'll save huge and have a much better experience by pre-paying for your reservation via one of the packages below.
Arriving at the strip club without a reservation, you're liable to pay standard nightclub pricing of $500+ per bottle and 1 bottle to every 3-4 people in your group (plus tax, gratuity, and service fee). Avoid this by booking one of the following packages and pre-paying.
Bottle Service Packages
All of Sapphire's bottle service packages are pre-pay only via PayPal. We can assist you with reserving any of these packages over the phone at 702-755-1766. You can always text us as well for more information on any one in particular.
The most popular and affordable bottle service packages are the "Starting Lineup" and the "Jacks & Tens" pre-paid packages. We feel they offer the best value for mid-size and larger groups of people. Note: Prices are for the entire group; not per person.
FREE Pick-Up
1 Premium Bottle
Unlimited Mixers & Red Bulls
No Cover Charge ($50-60 Value)
VIP Table Main Floor
Bonus: 5x Comp Shots
(Good for Up to 5 Guests)
FREE Pick-Up
2 Premium Bottles
Unlimited Mixers & Red Bulls
No Cover Charge ($50-60 Value)
VIP Table Main Floor
Bonus: 10x Comp Shots
(Good for Up to 10 Guests)
Pre-Paid Package
Interested in seeing all of Sapphire's pre-paid packages? We've assembled this easy menu for you to decide what's best for your group size and budget: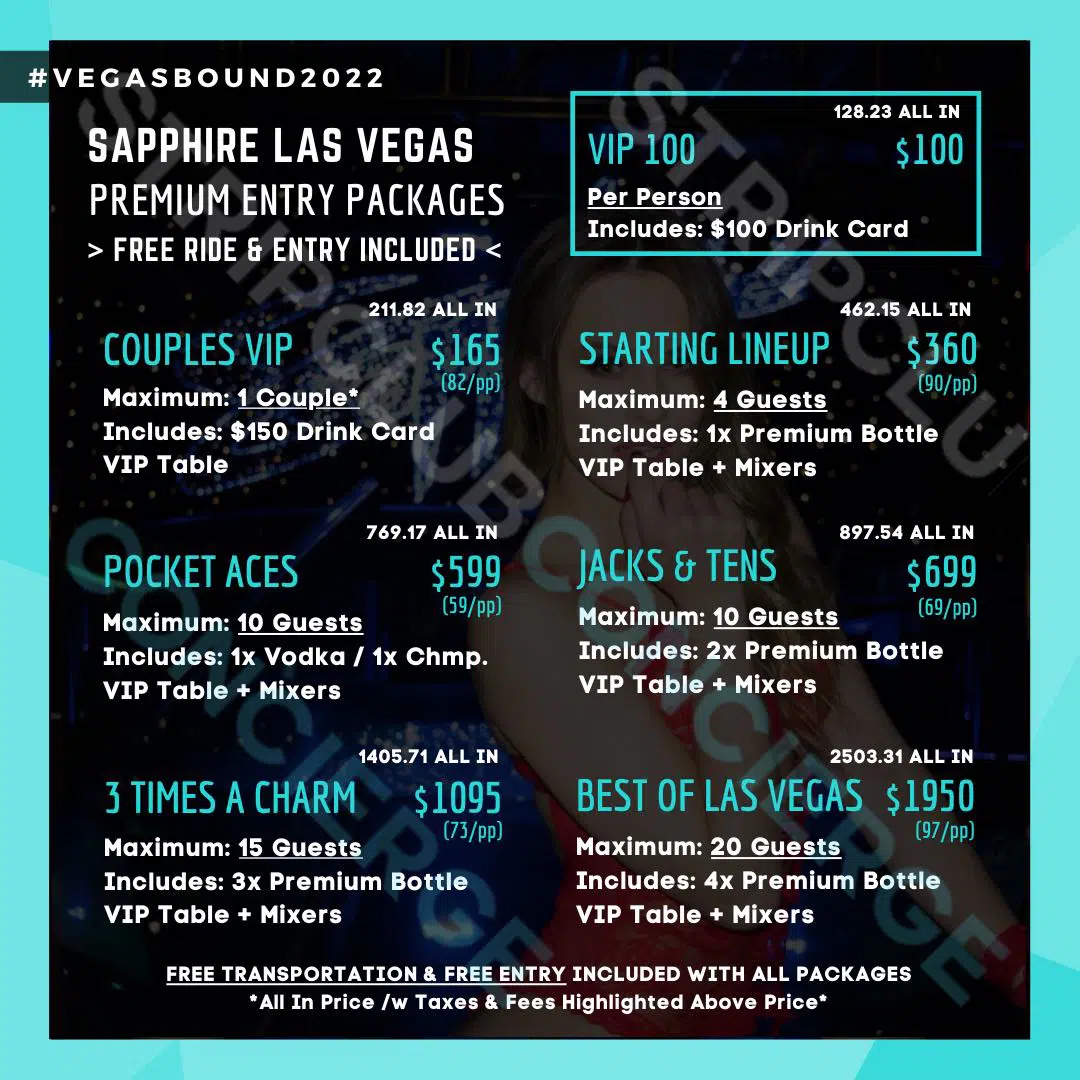 P.S. There's a lot of options!
Have more questions? Don't hesitate to call or text us for more information on any particular package at 702-755-1766.
We'll help you reserve and send you a link to pre-pay via PayPal, so everything is set the night you arrive.
As with any of our packages, free pickup and free entry are always included.
Sapphire Bottle Menu
You may be asking about which premium bottles are included with packages like "Good Times" and "Jacks & Tens". Below is the full list of premium selections for you to consider when making your reservation.
The first menu is the list of selections as part of any of Sapphire's prepaid packages above.
The second menu is Sapphire's a la carte bottle prices. These are the prices you'd pay per bottle without any prior reservation, or if you'd like to add bottle purchases on top of any purchased all-inclusive package.
Premium Bottle Package Selections (Updated 2023)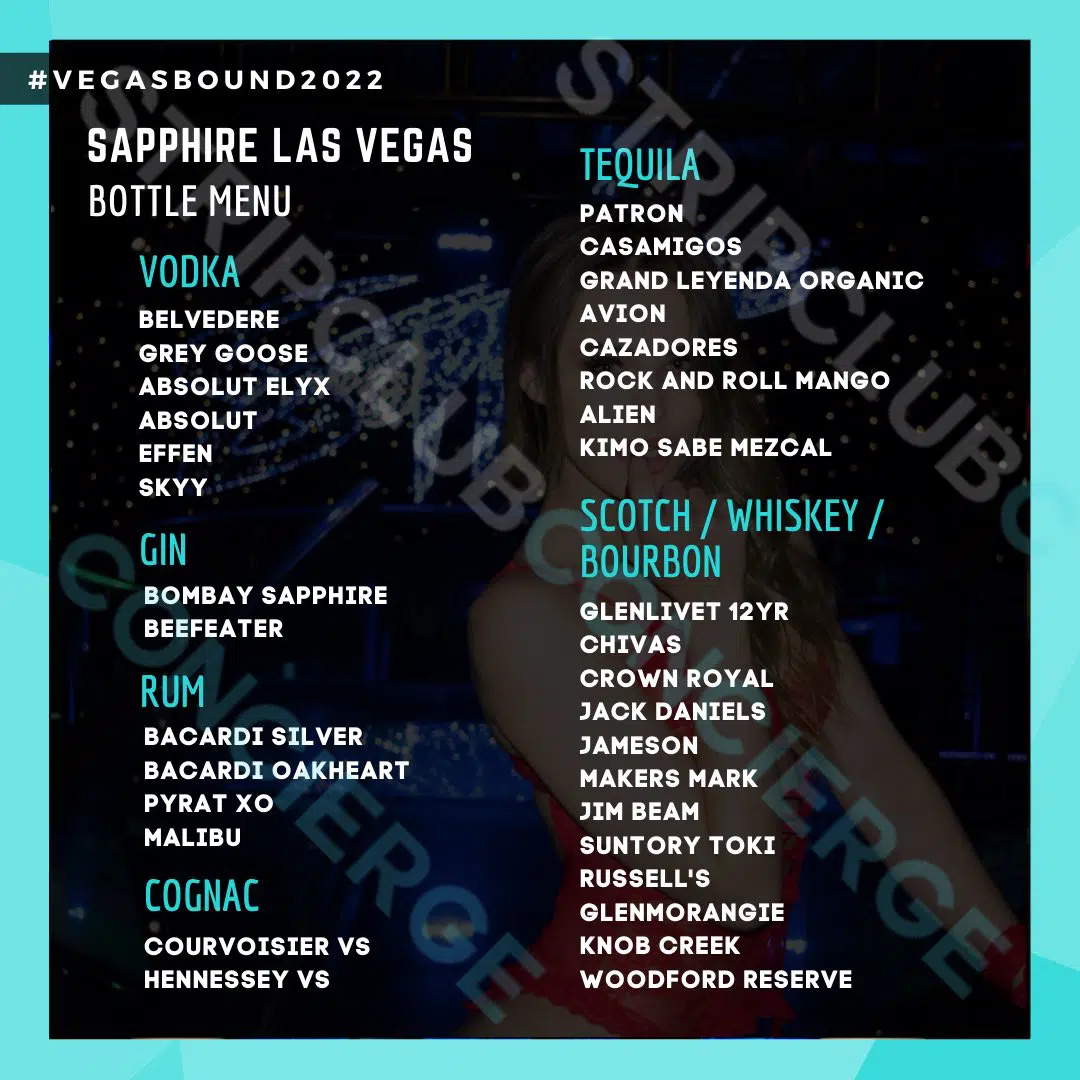 Premium selections include (by liquor type):
Vodka: Belvedere, Grey Goose, Absolut, Absolut Elyx, Effen, Skyy
Gin: Bombay Sapphire, Beefeater
Rum: Bacardi Silver, Bacardi Oakheart, Pyrat XO, Malibu
Scotch, Whiskey, Bourbon: Glenlivet 12, Chivas, Crown Royal, Jack Daniels, Jameson, Maker's Mark, Jim Beam, Suntory Toki, Russell's, Glenmorangie, Knob Creek, Woodford Reserve
Tequila: Patron, Casamigos, Grand Leyenda Organic, Avion, Cazadores, Rock and Roll Mango, Alien, Kimo Sabe Mezcal
Cognac: Courvoisier VS, Hennessey VS
Sapphire Bottle Prices (A La Carte)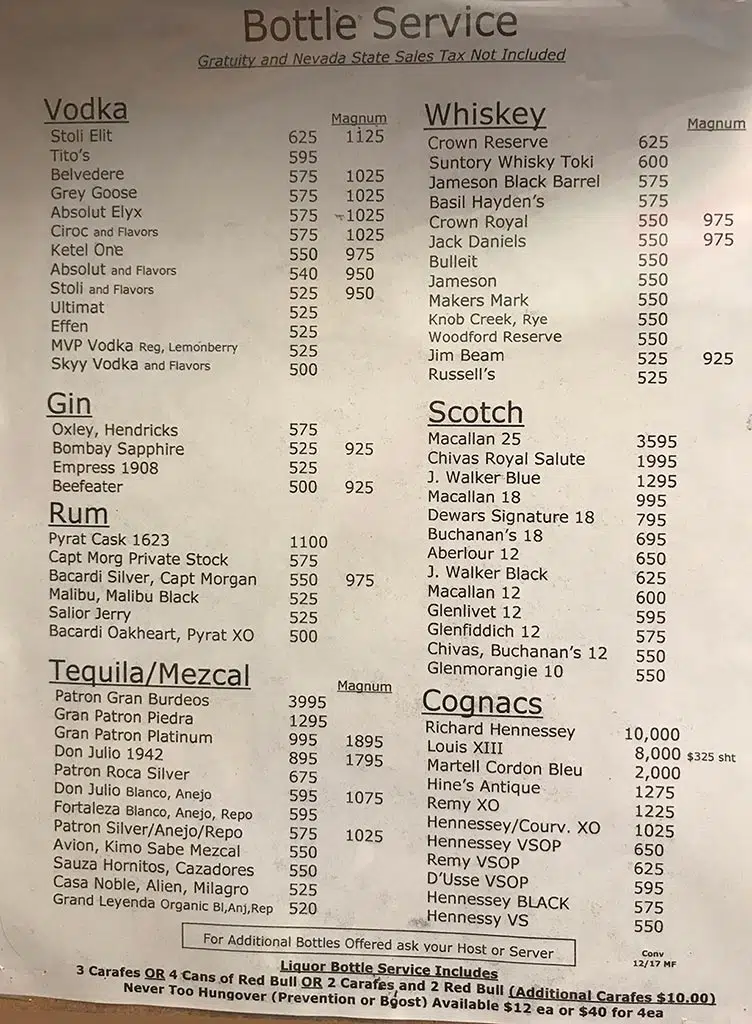 As you can see from the above menu, standard bottle pricing at Sapphire varies from $500 to the cheapest bottle to $675 for premium liquors. Super premium, special editions, and special Cognacs will run more than that.
You'll also pay tax and gratuity on top of any of these prices at the club. Always pre-pay!
Best Table Locations
As we've said many times, Sapphire is the largest strip club in Las Vegas. Bottle service reservations are divided into five different areas of VIP Tables, each with their own unique flair.
In our opinion, the variety of VIP experiences at Sapphire is truly what sets it apart from the other Las Vegas strip clubs.
Main Room
Booking most of the prepaid packages above, you'll be placed on the main floor, home to the main stage and lap dance area. This is the largest area of Sapphire, and where sporting events and fight viewing parties typically take place.
The main floor is great for easy access to the main bar, as well as a wide selection of girls working the room. If its your first time, reserving a table in the main room is a great option for a small or moderate bachelor party or group of guys.
VIP Room
If you head to the back of Sapphire and down the stairs (or have a girl walk you back), you'll find the infamous VIP Rooms. These rooms are made for an intimate lap dance experience, and possibly more depending on the girl.
The VIP Room offers a private experience with the girl of your choice. Even if your VIP table is in another room, we recommend bringing a girl back here to check it out.
Featured above is the "Champagne VIP Room," which is a little larger and more luxurious by design. This room in particular is great for a small group of friends.
VIP Room Pricing
At Sapphire, pricing varies widely by dancer. While we can't give you the exact rates, we can share the usual cost for those trips to the VIP Room at most clubs (on average).
Here's a standard price breakdown for those interested:
3 Songs: $100
15 Minutes: $150
30 Minutes: $200
You'll also have a drink minimum purchase inside the VIP Room, so consider that as well when allocating your budget. The best value is definitely the 30 minute time slot, even with the drinks added on.
Skybox
A Skybox is just as amazing as it sounds. These ultra VIP booths actually overlook the entire club, and Sapphire features 10 different Skybox rooms to choose from.
While one of the pricier options for Sapphire bottle service, you'll get the most out of a tab of a few thousand dollars in one of these skyboxes. Sapphire's most gorgeous dancers will shower you with attention for the night, and you'll have a personal waitstaff and VIP Host tending to your needs.
Consider it your personal mansion in the sky for the night.
Insider Tip: Try to book either room #1 or #10 in the corners, as they offer the most square footage of all 10 skyboxes.
Karaoke Room
The Karaoke Room is definitely one of the more unique experiences available at Sapphire (and in all of Vegas). Think of the best time you ever had doing karaoke and multiply it by ten.
This special VIP room at Sapphire Las Vegas allows you to take your favorite dancers in for a full night of sing-along karaoke with you and you friends. The girls will literally sing along to your selection of songs, and you'll have the room with full service bar and staff to yourself.
Depending on the night, the minimum spend in this room will be a few thousand dollars. You're eligible to reserve the Karaoke Room with some of the larger prepaid packages, but generally a normal spend on bottles is required.
Rockstar Table
The Rockstar Table is the VIP table of kings. Located directly in the center of Sapphire Las Vegas, the Rockstar Table allows you to see all of the club at once.
If you don't mind having tons of attention on you at once, this could be the table for you.
Did we mention that the Rockstar Table sits right below the Rockstar Stage? This is the main stage at Sapphire, and the center of the action.
Keep in mind reservations for the Rockstar Table are typically in increments of three hours at a time, for at least a three bottle reservation. Prepaid packages including three premium bottles (such as "Three Times a Charm") can go toward this bottle minimum.
There is also a package specific to the Rockstar Table appropriately titled "Rock Star," including 3 premium bottles, a champagne toast, and a personal DJ shout out. If that's not enough, Sapphire also throws in a round of 15 house shots to round out this prepaid package.
Note: If you'd like the table for longer than the standard three hour slot, or for the entire night, you'll be looking at a significantly higher minimum spend.
For all bottle service reservations, and questions about specific sections on any particular night, please call or text us directly at 702-755-1766.
Bachelor Parties
Sapphire Las Vegas is easily one of the top choices for your bachelor party. The variety of VIP Packages catering to different budgets and desired experiences truly sets it aparts, and makes it easy to plan your perfect night.
"Good Times" (5-7 people) and "Jacks and Tens" (7-12 people), featured above, offer the best value of any of their packages. For a slightly larger group you may consider "3 Times a Charm" (10-15 people).
Call or text us directly at 702-755-1766 for more information on planning your bachelor party at Sapphire Las Vegas.
Bachelorette Parties
Yes ladies, Sapphire has male performers as well. They're part of the Men of Sapphire male revue performance, which runs Thursday-Sunday from 10pm-12:30am.
By the way, Sundays we're just added on for the 2020 Season. This was likely to compete with rival show Men of Hustler, also open Thursday-Sunday.
Men of Sapphire
Men of Sapphire (still closed since COVID) offers a deluxe champagne bottle package at a very affordable price of $40 per girl. This includes deluxe limo to Men of Sapphire, expedited entry, a VIP table, and a bottle of champagne for every four girls in your group (more girls = more bottles at the same price). This is an unbeatable, all-inclusive bachelorette party package that will be sure to leave all your girls satisfied.
Men of Sapphire's bachelorette packages and specials change often with each season of the show. It's best to call us directly for current pricing at 702-755-1766, or double check the Men of Sapphire website here before making a reservation.
Couples Night
We feel that Sapphire is the absolute best for couples in Las Vegas looking to spice up their night. This strip club really caters groups of couples with simultaneous female and male performers, a variety of areas and stages, and tons of special activities.
We actually like Sapphire Las Vegas so much that we did a write up about why its the best choice for couples. Here, you'll also learn how to best prepare yourself for couple's night at the strip club.
Food at Sapphire Las Vegas
One of the cooler parts about Sapphire Las Vegas is the variety of food options. If their acclaimed in-house grill isn't enough for you, the strip club is located directly next to one of the best Mexican restaurants in Las Vegas.
The El Dorado Cantina is adjoined to Sapphire and services all organic, non-GMO Mexican dishes. It's perfect for a late night snack after the strip club. P.S. El Dorado Cantina has just reopened for indoor dining.
Sapphire Food Menu
As far as Sapphire's own food options, the club offers a 24/7 grill with everything from burgers and pizza, to salad, and even breakfast. "The Sapphire Feast" is our personal go to when kicking back inside.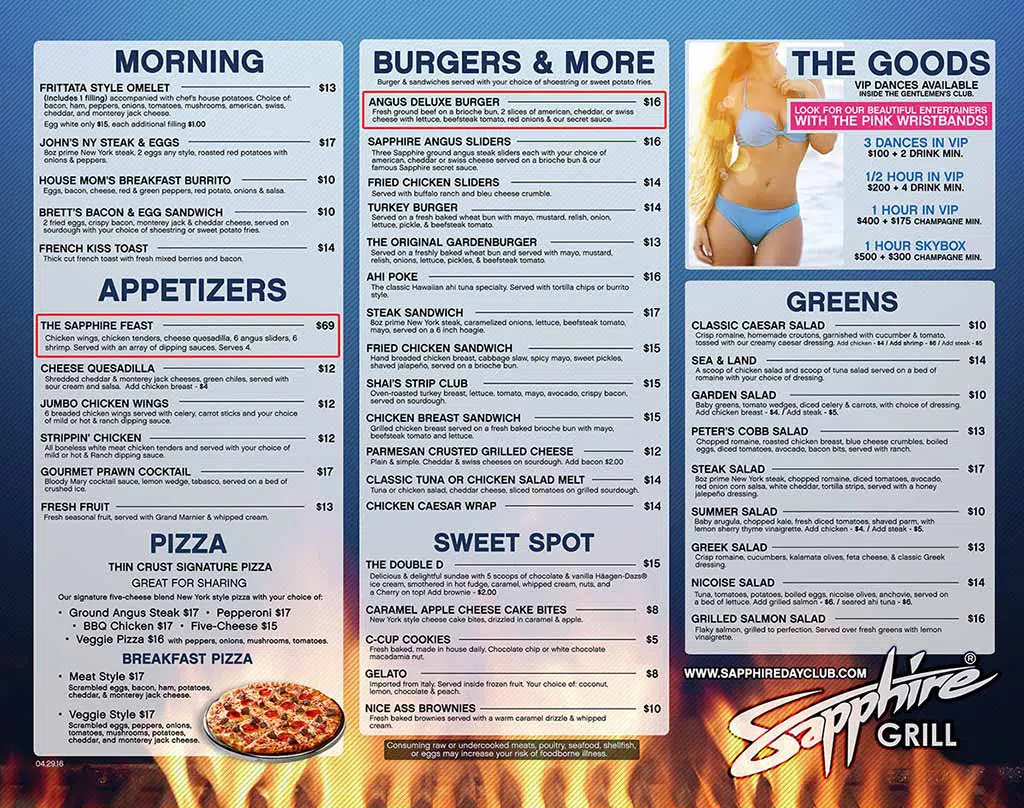 Sapphire Pool and Dayclub
Sapphire Las Vegas opened up its pool and dayclub in 2014, and the addition has been a hit ever since. The pool is open from 12pm to 6pm every Friday, Saturday, and Sunday over the summer. The "strip club pool party" is a fantastic option for bachelors and groups of guys looking for the best of both worlds in the summer heat.
The pool typically opens up in March, and closes for the season at the end of October. You'll have to come within that timespan to experience the legendary topless pool party in full swing.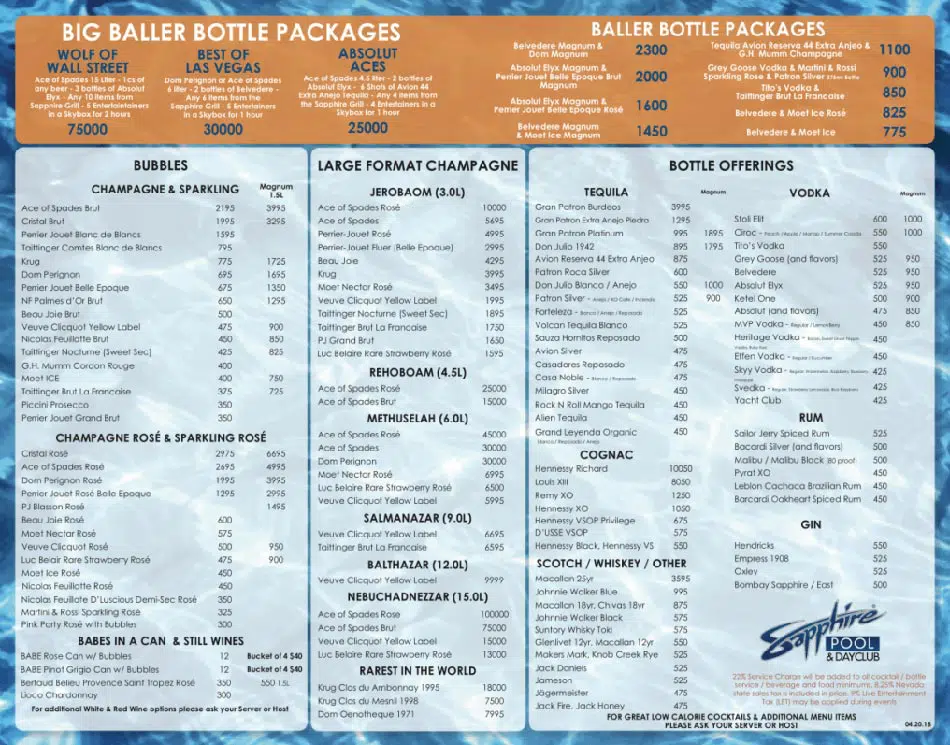 Note: There's "Big Baller Bottle Packages," and theres (baby) Baller Bottle Packages. Be prepared to lay down some serious cash for special treatment at Sapphire Pool over the summer. For more information you can always check Sapphire's dedicated pool website. They also have a very active twitter page with frequent updates and season info for that particular year.
Specials change from year to year, so be sure to call or text us directly at 702-755-1766 for this year's best entry packages and bottle service deals.
The Wrap-Up: Things to Remember
Here are a couple tips to remember when visiting Sapphire Las Vegas. We want you to have the best time possible while making sure you don't get kicked out for something you weren't sure about.
If you're interested in learning more about strip club behavior guidelines, we have an extensive article that covers the do's and don'ts of strip club etiquette in full.
Sapphire Las Vegas Dress Code
No Flip Flops, Sandals, or Open Toe Shoes
No Shorts of Any Kind
No Sweatshirts, Jerseys, or Baggy Clothing
No Tank Tops
"Business Casual" Preferred
Masks Required for Entry
You can read more on Vegas strip club dress code rules here.​
Strip Club Concierge's Top Tips
24/7: You won't have to watch the clock or wonder what time it is, because Sapphire Vegas is open 24 hours a day and 365 days a year.
Pre-Game: Try to do a little pre-game drinking to relax and calm your nerves before showing up. To the newbie strip club goer, Sapphire can be a little overwhelming. Especially when you walk in and see the main stage, and 70,000 square feet of smoking hot strippers ready to swarm you.
Drinks: At Sapphire, drinks will run you $15-20 and they add up. It's best to pre-game prior to your pickup, and then just have the two drinks as part of the entry package. Those should then be enough to hold you over for the rest of the night.
Dancers: There are over 400 dancers on staff at Sapphire, and over 100 working on any particular night. While the entertainment is free to look at, you should either be sipping a drink or buying a dance here and there as a form of good etiquette.
VIP Hosts: With so many options, you're bound to find the girl of your dreams. To move this process along faster, you can always tip one of the VIP Hosts and let him know what type of girl you're looking for. A VIP Host will more than likely be willing to help find a specific girl for a small tip.
Start Slow: Don't feel pressured to get a lap dance or buy a drink when you first enter. The girls will try to pressure you right from the get-go because how they're trained at Sapphire Vegas. Just simply tell them you need a little more time.
Bring Cash: Try to withdraw some cash beforehand, because the ATM fees can be exorbitant ($10-20 per withdrawal). A lot of people don't realize this until they get there and have to withdraw cash. Also, make sure you have your $1s withdrawn and ready ahead of time, as they usually don't break larger bills for free.
Avoid Scams: Never take a Taxi, Uber, or Lyft to a Las Vegas strip club. You'll always pay a large cover at the door, in addition to transportation and drinks. Also, never trust anyone you meet on the street. We've heard more than our fair share of horror stories.
Conclusion
Sapphire Las Vegas is known as the hottest strip club in Las Vegas for the amount of women to choose from (over 400), the variety of VIP rooms and activities, and the vast selection of party packages available. One thing is sure: you'll remember time spent here for a lifetime.
Call or text us at 702-755-1766 to reserve your complimentary pickup today, or contact us with any questions you may have.