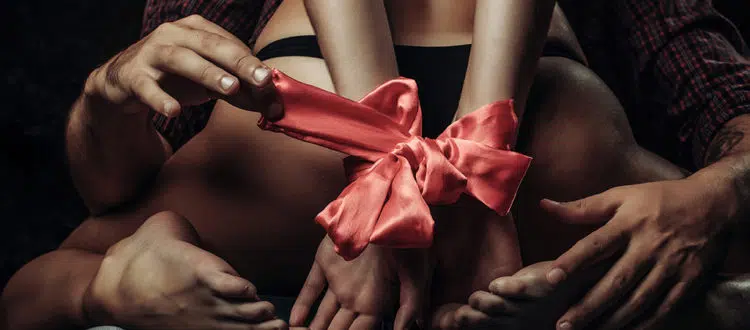 Best Vegas Strip Club for Couples Night? [2023]
When you think of a couple's night out, one of the first thoughts you probably don't have is "let's go to the strip club."
Now, before you put off the idea completely, just know there are lots of things you can do at the strip club that are super exciting for both individuals and couples. Couples dances are actually strippers' favorite lap dances to give.
Las Vegas strip clubs for couples have been on the rise in recent times, and many clubs have began shaping up some of their specials to cater to couples.
How adventurous are you and yours?
(P.S. We reveal our #1 best Vegas strip club for couples below – so just scroll if you're not into foreplay)
Why Would a Couple Go to a Strip Club?
You really have to suspend your current beliefs of what you do at a strip club. The whole idea behind going to a strip club isn't to get some sort of release or be a complete pervert, it's simply to be entertained.
Going to a strip club together can also actually create some lasting memories: you'll share some laughs, some good times, and maybe even a few awkward moments that you can look back on and laugh at in the future.
For Men – The No Pressure Approach
If you're unsure of how to approach your significant other about going to the strip club together, try to go in with a no pressure approach. Just know that when you approach your partner, there's a good chance they'll be put off by the idea.
The entire idea of going to a strip club as a couple has generally been frowned upon as taboo by society. It's a guilty pleasure that a lot of couples want to do but a lot of couples don't because they don't want the judgement that follows.
Try to turn your wife or girlfriend on about the idea slowly before making plans. You can also suggest that you go in secret and not tell any of your friends or relatives. Secrets are sexy.
For Women – Control the Itinerary
If you want to make it an extra special night for your man, then as a woman you can try to pick the hottest girl to provide him a lap dance. In addition, you can take on the burden of picking the place you go (suggestions for Vegas strip clubs for couples at the end).
Keep it as kind of a surprise to the man so he doesn't know what to expect. A woman who takes control of a situation is always incredibly hot to her guy. Just make sure you're getting in on the action yourself and don't just sit there.
Try not to let your man have all the fun. Hell, get a dance for yourself as well to see what all the fuss is about.
What Benefits Can a Couple Have from a Strip Club?
You're probably thinking, okay all of this is great but how does anyone's relationship really benefit from going to one of the Vegas strip clubs for couples night?
Going to a strip club can re-ignite a missing spark in your relationship, and light a fire of passion between the both of you again.
After an erotic couple's lap dance, you'll both leave with heightened sex drive – and what happens after that is up to you.
You'll learn a little bit more about each other after participating in an activity that you typically do with your same-sex friends.
Both of you might leave with some new sexual ideas, fetishes, or fantasies to try out in the bedroom.
For couples with relationship difficulties, this can be a great way to release sexual frustration and pent up desire.
Going out together in Las Vegas for couples night to one of the strip clubs can be exhilarating. Making it all work out well and ensuring that you both have a good time can be tricky.
While choosing the best Vegas strip club for couples will make your experience go smoother (and we're here to help), there's still some general guidelines to take with you to any venue, along with your significant other.
Here are some excellent tips for making sure couples night at the strip club is an evening to remember for you and your wife or girlfriend.
Leave Jealousy at the Door
Warning: DO NOT go to a strip club as a couple if either of you are the jealous type. Some couples have learned this the hard way.
If either of you are going to be jealous or feel insecure at the sight of your significant other getting a dance from someone half-naked, then you probably should just stay home and find something else to do.
Doing a Las Vegas strip club for couples night is purely for those people who get a kick or sexual spark out of seeing their partner go wild.
Get a Feel for The Scene
You don't have to start the night off by doing body shots and going crazy. Simply start by watching the dancers, watch the main stage, get down there and throw 1-dollar bills at the girls dancing or grab a couple of drinks and just relax.
There's no pressure in taking it slow and taking the scene in before you move on to the fun stuff. If you don't think you're ready for a lap dance yet, then politely deny any lap dances that are offered to you. The drinks usually aren't too expensive at these clubs, so if you want to get a nice buzz going and ease your way into it, that's the best way.
Do Your Research
There are a lot of strip clubs in Las Vegas, but not all of them are great for couples. Some of them really only cater to individuals and some of them aren't worth going to at all, even as an individual.
Make sure to read through the reviews online of different strip clubs before ultimately deciding on which one is for you. Thankfully, we've done all the hard work for you and we've determined the absolute best Vegas Strip club for couples by a long shot.
Best Las Vegas Strip Club for Couples: The Winner
When we were looking for the best club, we had to look at a few different factors. How accommodating are the staff of couples? Are the dancers generally friendly? Is there plenty of space and tables to sit at? How many activities are there for couples? Do they have a nice cocktail and bottle selection? And much more.
We've found that the best strip club for couples is currently… drum roll… Centerfolds Las Vegas.
Where can you find classy right next to steamy? It's here, at Centerfolds and their 11pm nightly interactive burlesque show "A Touch of Burlesque."
Enjoy live, traditional Vegas entertainment, while getting all the amenities and attention of a Las Vegas strip club on couple's night.
They've also got 100-150 of the hottest dancers in Las Vegas working nightly.
And they know how to entertain couples. So indulge in whatever physical fantasy either of you may have.
Look forward to a night to remember for both you and your partner.
Couple's Night Package at the Las Vegas Strip Clubs
But what about the long line? Thankfully, when you book a night out at Centerfolds through us, you can skip the long line and you don't have to worry about transportation. We'll get you to Centerfolds from your hotel for free. Your cover charge is also waived.
As official partners, you can book directly on their site through us and receive all star service. We recommend their deluxe VIP Red Package for an elevated Couple's Night experience.
For only $275, you receive $350 in bottle credit (to be used towards champagne, cocktails, or anything you like).
Not to mention, there's a mystery special gift included on arrival:
We've looked at all the options in 2023, and crowned this as the best couples night deal now available at the Las Vegas strip clubs.
Leave it to us to save you a bit of money, and help you have a memorable night you won't soon forget.
Budget Option
Looking for something a bit cheaper? You can also opt for their 50VIP Package ($50 in Drink Credit) and still enjoy the show and the strip club, with seating included.
A cozy, intimate venue with anywhere from 100-150 quality entertainers, a full hookah lounge, and multiple private VIP rooms – Centerfolds is always a great choice for the adventurous lovers.
This package will only set you back $50 each ($100 total), and includes complimentary limo & entry as always.
Budget Friendly $50 Couples Deal
We'd love for you to book with us today, and find out why so many people turn to us for their Las Vegas couples night at the strip clubs.