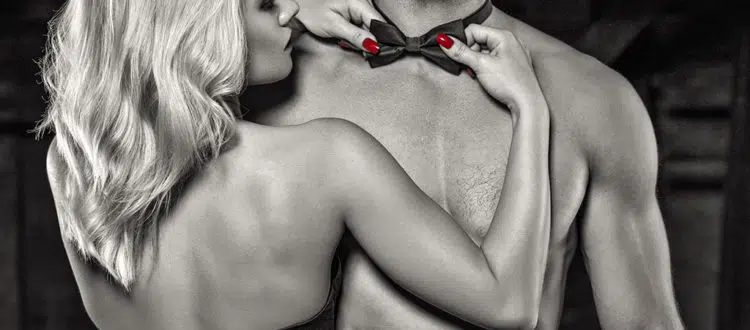 Coed Strip Clubs: Best for Male & Female in Las Vegas [2023]
Sometimes you'll find yourself with a group of girls and guys in Las Vegas.
Maybe you've just left the club at the end of the night, or perhaps you're looking for an extra special pregame party. To appease everyone, you'll have to find a coed strip club (one featuring both male dancers and female dancers).
There are more than a few coed strip clubs in Las Vegas – catering equally to both sexes – and we'll go through the best options and individual features here (our top 3 are listed below).
Not every strip club session has to be a guys night out fueled by testosterone, or a group of women raging on their bachelorette party. Sometimes, a mixed group of friends want to go where they can all enjoy each other's company as well as the action on stage.
Are Male and Female (Coed) Strip Clubs Different Than Single Sex Strip Clubs?
Ideally, no. The most popular strip club packages stay the same for both guys and girls. The various rules and etiquette guidelines of each strip club also stays the same. The only difference is, there's multiple rooms and stages for each type (or gender) of entertainment.
The majority of clubs that feature male dancers and female dancers actually allow the patrons that wish to see both men and women to freely float between each side of the venue (the best example being Hustler Las Vegas).
Aside from featuring performers of both genders, we also look for: clubs featuring multiple forms of entertainment, individual and communal areas, and those most accommodating to larger groups that are looking to have a fun night out above all else.
Las Vegas Strip Clubs for Women and Men
Whether coming with a small or large group, you're going to want to find a central activity that appeals to everyone and not just some of your friends. Otherwise, you'll have bad vibes at best, or a couple stragglers wishing to go home early at worst.
It's easy for the bachelorette party bringing along a couple gay friends, or the guys weekend with the token female friend. You'll still either want to see only male or female strippers.
What about the party group of six guys and five girls? Two are couples, and the rest are single or in "it's complicated" status with someone back home. You'll want more of an afterparty vibe at the strip club of your choice.
Different floors and rooms also help to balance the group, provide enough variety, and guarantee the right action for everyone.
Balancing Male & Female Desires
Coed strip clubs can be really fun for everyone involved if the activity is planned ahead and with the right intentions.
We encourage you to keep an open mind, although a straight guy probably still won't set foot in Kings of Hustler. As you might guess, girls are typically much more willing to see female dancers than vice versa.
Don't worry men – all the top male revue shows inside Las Vegas strip clubs are held in separate rooms or completely separate floors from their gentlemen's club counterparts.
The clubs we've reviewed feature a combination of the hottest female and male dancers in Las Vegas, as well as the best accommodations for coed groups of guys and girls.
The following list can also be viewed as great "after party" and "after hours" strip clubs as well. They're just a fantastic place to go when the major clubs in Las Vegas let out around 3am or 4am, and the party must go on.
When all else fails: there's always food. If you're looking to get your grub on, most of these venues have their very own kitchen or restaurant attached to the club. The food is surprisingly good and typically inexpensive for most items at each of these three strip clubs.
We're always here to give you the best recommendations for your group and specific plans. Please call or text us at 702-755-1766 to speak with one of our representatives and start planning your trip to the best coed strip clubs in Las Vegas.
The Best Coed Strip Clubs in Las Vegas (Our Top 3)
Ready to check out the best unisex strip clubs (for both men and women)? We've put together a complete list of our favorites for 2019.
Enjoy and let us know how they went for you and your crew.
Spearmint Rhino (Only Female Dancers)
While Spearmint Rhino only has female dancers and no male dancers, this strip club is such a popular after party spot that we had to give it an honorable mention. If the girls in your group are alright with the idea of naked females in front of them, this could be the best choice for all of you.
In addition, Spearmint Rhino recently remodeled its entire interior. This improvement has caused a number of the strip club's hottest dancers to return to work here (we missed you!).
The dancers have always been very flirty, very fun, and very welcoming to mixed groups of patrons. Rhino also has a lot of VIP and privacy rooms where you can fit multiple people in for lap dances and entertain multiple girls at the same time.
Spearmint Rhino is one of the hottest gentlemen's clubs in town, and has been for many years. They'll often have specials that pertain to large groups, but these specials change quite frequently. The best deal for large parties is consistently the group VIP rooms: available for half-hour, three-song, and full hour rates.
The girls here are known to hustle, so be prepared, but they are some of the hottest female strippers in Vegas so they often deserve top dollar.
Sapphire Las Vegas (The Runner Up)
There's something for everyone at Sapphire Las Vegas. This place is not only massive (stretching over 70,000 square feet between Sapphire Gentlemen's Club and Men of Sapphire), but also employs over 100 dancers performing nightly (with 400 rotating on staff).
Men of Sapphire is tastefully divided into its own side of the strip club, and features a room full of arena style VIP tables to watch the show. To see both male dancers and female dancers, you'll have to come during Men of Sapphire's 150 minute runtime: Thursday through Saturday from 10pm-12:30am.
The popular male revue show features multiple acts, choreographed performances, public lap dances, bachelorette tributes, and more. You'll find it much more interactive than your typical male revue on The Strip or in one of the hotels.
Want to make sure you catch both? Call us at 702-755-1766 to schedule your pickup (earliest 9:30pm) on one of these nights. The guys can head into Sapphire Gentlemen's Club and the girls into Men of Sapphire when you arrive.
Purchasing the two drink package with return ride secures entrance at each show for your group. Everyone will want to meet inside the gentlemen's club once the male revue show lets out. This central party area features open VIP seating and an entire floor of booths to get a lap dance on or simply chill out with your group.
One more word about food: when you're done partying, El Dorado Mexican Cantina (a very popular organic, non-GMO Vegas Mexican restaurant) is literally attached to Sapphire. This added bonus is a great reason to finish your night here at Sapphire Las Vegas.
Larry Flynt's Hustler Club (The Winner)
Why is Hustler Club the best male and female strip club in Las Vegas?
In addition to simultaneous male and female performers four nights a week, this strip club offers an three-level expanse of VIP booths, private rooms, and even its own rooftop nightclub.
We particularly enjoy the roof area of the Hustler Las Vegas. It's a very large space, there's always great music going, and staffed by friendly and attentive bartenders and waitresses. Think of a mini-nightclub within the strip club…but also on the roof.
The 3rd floor rooftop is also the level that features Kings of Hustler.
To see both men and women at Hustler, you'll have to come Thursday through Sunday from 8pm to 2am. That's right. Kings of Hustler puts on one of the best shows in the industry with a six hour long male revue featuring continuous performances, acrobatics, shoutouts, and special requests.
Good news. Our two drink package covers your entrance at both Kings of Hustler and Hustler Gentlemen's Club for the entire night.
Sunday is by far the best night to go. For a flat $50, girls can opt for the special Sunday open bar package featuring a four hour open bar from 8pm to 12am. This includes the usual free round trip limo and free entry, like all packages booked through us.
Hustler features multiple main stages on the first and second floors devoted to its gentlemen's club. You'll also find the world's largest stripper pole here (two stories tall), from which you'll see their female dancers slide into the action.
The main floor is really the perfect spot to reunite with your group after your separate coed strip club activities are finished. It's a great place to enjoy some drinks, catch up, and watch some of the hottest strippers in Las Vegas do their thing.
If you're feeling adventurous, and have some cash to put together as a group, we recommend looking into one of the 16 Hustler Honey suites on the second floor. These private rooms offer an intimate experience for a small group of guys and girls with one or multiple dancers.
Hustler's male and female dancers are known for being some of the friendliest, most attractive, and willing to accommodate in the industry. Tip them well and they will happily bring your girl or guy on stage for a "special" public performance.
Overall, you can expect a very laid back and casual atmosphere if planning on rolling up to Hustler Las Vegas for your group afterparty. Hustler Club is a favorite among locals and tourists alike, and offers the best in class female and male performers, bartenders, and staff.
Want to Visit? Ride with Us
If you and your group are looking for a ride to one of the best strip clubs for women and men in Las Vegas, be sure to give us a call first at 702-755-1766.
Simply tell us how many people you have, your full name, and what time you're looking to go. We'll schedule a pickup straight from your hotel, and make sure you have the best experience possible.