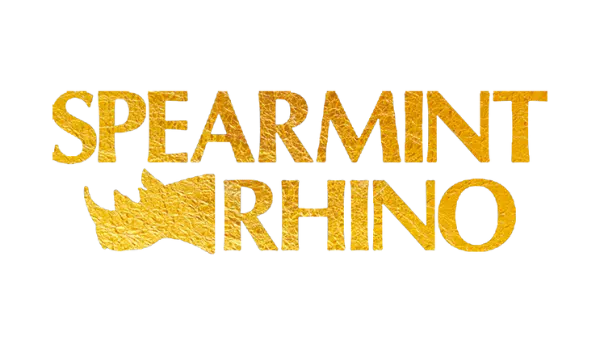 Spearmint Rhino Las Vegas [Official Guide]



VIP Front of Line Admission
Valid /w Two Drink Ticket Purchase
Book Now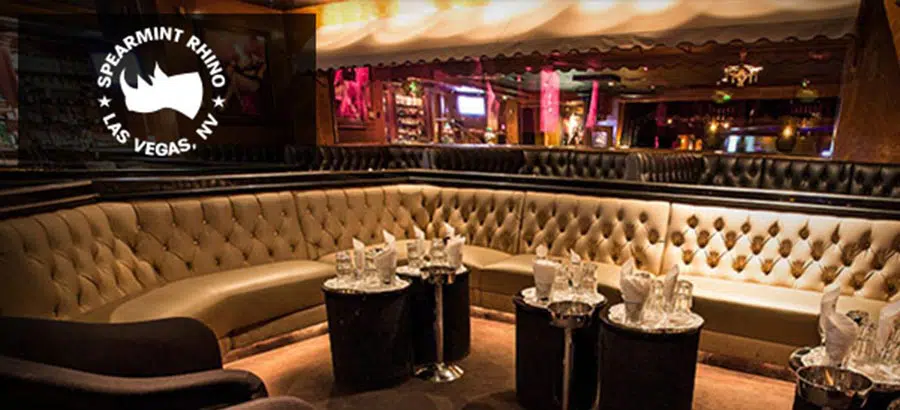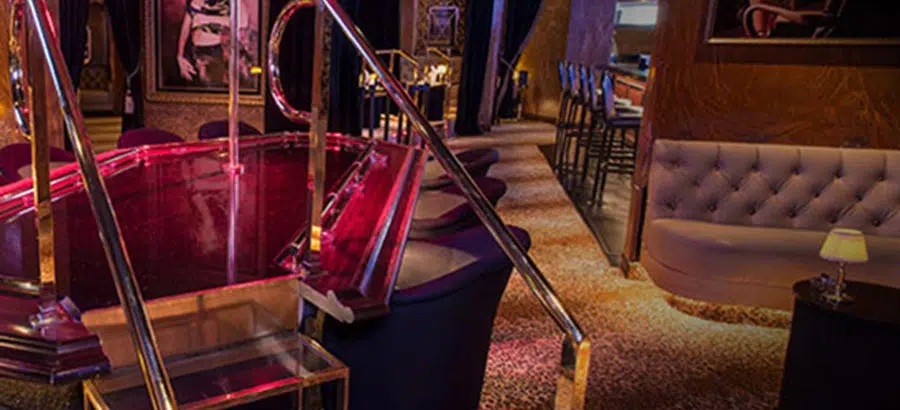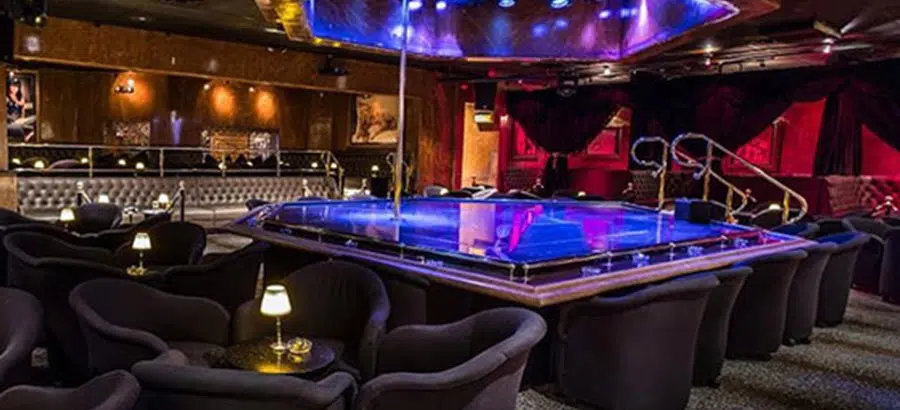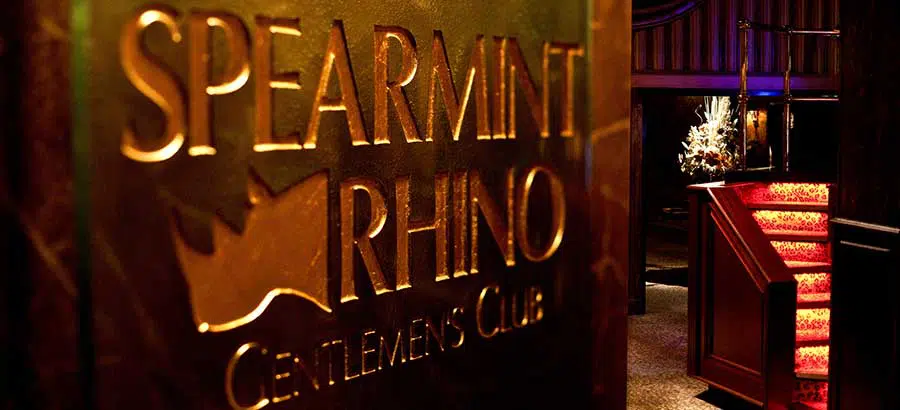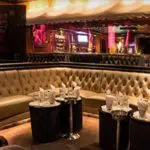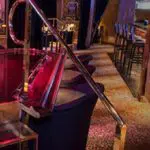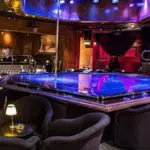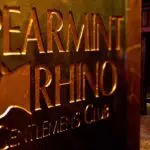 If you are looking for a high-end and luxurious strip club experience, look no further than Spearmint Rhino.
One of the best spot for couples and also groups of girls and guys in general, Rhino has an immaculate interior that gives off a sexy, intimate vibe.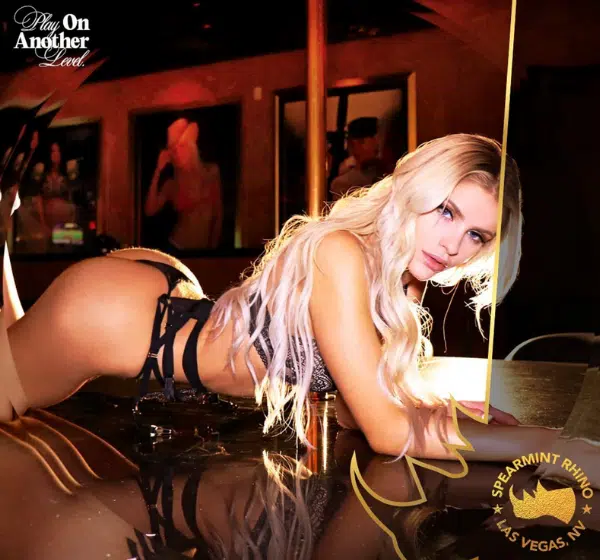 Spearmint Rhino gentlemen's club in Las Vegas is not only one of the most popular in town, but around the world. The parent brand has locations across the globe, and are best known for their beautiful women and top-notch customer service.
What can you expect when you visit the Spearmint Rhino strip club? Read on for a detailed review.
Spearmint Rhino Hours & Info
Hours: 9am to 5am (M-W), and 2pm to 8am (Th-Su) [Updated for 2023]
Best Nights to Go: Wednesday Industry Nights
Busiest Hours: 10pm – 2am
Bottle Service / VIP Pricing: $$$-$$$$
Music: Hip Hop / Top40
Dancer Quality: 8/10 and Up
Coolest Feature: The giant illuminated rhino horn outside the entrance.
Dress Code: See our general dress code guidelines.
Where is Spearmint Rhino in Las Vegas?
The Spearmint Rhino is located at 3340 S Highland Dr, Las Vegas, NV 89109, just off the strip and not far from our office.
You will find it just down the road (a 4-minute walk) from the popular 24/7 Cannabis Las Vegas Dispensary, Planet13. In addition, if you are at the Fashion Show Mall, you can walk there in only 11 minutes.
Why you shouldn't walk: you'll be charged a hefty cover if you arrive on foot, or via an Uber/Taxi.
Although Rhino isn't offering a two drink package at the moment, a better club (in our opinion) is.
Order a free limo ride to nearby Treasures Las Vegas through us instead, and get completely free VIP entry with a two drink purchase at the door.
Las Vegas Spearmint Rhino Club Review
As soon as you pull up to the Spearmint Rhino in Las Vegas, you will know you are in for a treat.
Outside
You can't miss the giant neon blue "Spearmint Rhino" sign with a glowing rhino up top.
This gigantic building is beautifully designed and lit up with bright lights. You'll know you're there when you see the long line of people to get it (always skip lines through us).
Inside
Once inside, you'll be immediately impressed by the decor of this top gentlemen's club.
The walls are covered in gold pattern with pictures lining the walls throughout. The club expands into multiple stages, VIP areas, and a full bar. Not to mention a built-in restaurant if you get hungry.
Next, enjoy the blue and red glow of the stage on top of the dancers. With multiple tables, booths, and private rooms, you will have your pick of seating (except when it's busy).
Note: Back in 2016, Rhino Vegas went through a massive renovation, adding 17,000 square feet to an already large club. In particular, the addition added another main stage and several larger entertainment areas. Trust us when we say it's big.
Spearmint Rhino Pricing
Some say that Spearmint Rhino is too expensive. We'd have to agree.
Cover Charge
All in all, you are paying for a more luxurious and high-end experience. The cover charge is usually $50, however if you happen to arrive later in the night or on a busy holiday, that price could be nearly double.
Bottle Service
Currently, Spearmint Rhino only offers bottle service at $550 a bottle for five people. No two-drink packages or discount bottle packages have been offered here since Covid.
If you are interested in a bit more options as far as drink and VIP bottle packages, Crazy Horse 3 is a great place to start.
A Prestigious Strip Club
Spearmint Rhino boasts well over a dozen different awards. Even dating back to 2002, only three years after their founding.
The Las Vegas branch of Spearmint Rhino specifically has won eight awards (between 2006 and 2015) from the Las Vegas Review-Journal for "Best of Las Vegas." They have won five awards from Las Vegas Weekly as well as other awards, including:
Viva Vegas TV "Locals Favorite Strip Club" (2012)
Guinness Book of World Records "Worlds Fastest Bartender" (2013)
The Best of Sexy Vegas "STRIPLV Hot List" (2014)
What Does The Public Say (Google Reviews)?
Overall, Spearmint Rhino has received 3.1 stars on average from customers. There are many positive and raving reviews, while some people did not enjoy themselves. Here's a list highlighting some of the pros and cons the general public experienced:
Pros
Clean and Classy
Reasonably Priced
Friendly Staff
Hot Women
Diverse Line-Up of Women
Great Bartenders
Cons
Feeling Pressured To Buy Dances
Overly Crowded
"Private" Dances Seem Not So Private
Expensive ATM
Some Seating Is Not Ideal For Viewing the Stage
A Strip Club With Worldwide Reach
Spearmint Rhino is a global strip club chain with locations across the world.
It was founded in 1989 in Upland, California, and has since expanded to include clubs in Australia, England, and across the US. The company is headquartered in Norco, California.
You can find their USA clubs in:
Boise, ID
Carter Lake, IA
City of Industry, CA
Dallas North, TX
Dallas, TX
Las Vegas, NV
Lexington, KY
Los Angeles, CA
Minneapolis, MN
New York, NY
Oxnard, CA
Pittsburgh, PA
Rialto, CA
San Jose, CA
Santa Barbara, CA
Santa Maria, CA
Torrance, CA
Van Nuys, CA
West Palm Beach, FL
Their UK Clubs in:
Birmingham
Leicester
London
And their Australian club in:
The Spearmint Rhino in Las Vegas is one of the flagship locations and is an enormous draw for locals and tourists.
Interestingly, Rhino is a sister brand of three other organizations as well.
Blue Zebra: A cabaret in North Hollywood.
California Girls: Based out of California, a popular topless and full nude entertainment.
Dames N' Games: Topless sports bar with three locations, Southern California, Los Angeles, and Van Nuys.
Spearmint Rhino vs. Peppermint Hippo
This isn't a comparison, this is an actual battle (supposedly). There has been apparently a lawsuit filed against the brand new Peppermint Hippo by Spearmint Rhino over having a curiously similar name.
The competing club actually derives its name from a South Park episode, in which they made a play on the name Spearmint Rhino (the "Peppermint Hippo"). Some have considered it an homage, while others (with financial ties) clearly don't feel the same way.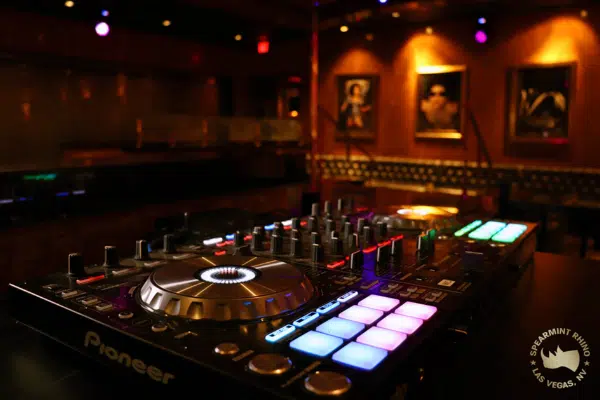 Spearmint Rhino Frequently Asked Questions
Is Spearmint Rhino in Las Vegas Open?
Yes.
Who Owns Spearmint Rhino Las Vegas?
Kevin Kelly is the President & CEO of Spearmint Rhino Las Vegas, while John Gray is the owner. Gray's company owns the trademark for Spearmint Rhino Gentlemen's Club.
How Did Spearmint Rhino Get Its Name?
There are some mixed opinions about how the Rhino got its name.
Some speculate that it was a random name based on the restaurants (Peppermint Elephant) they took over and turned into clubs. Ironic, with the now competing "Peppermint Hippo."
Others have alluded to it being used as terminology found in certain dictionaries.
Whatever the reasoning, it's a catchy name.
What Is The Spearmint Rhino Las Vegas Mask Policy?
All mask and vaccine mandates have been dropped in Las Vegas as of 2/10/22. This includes Spearmint Rhino as well.
Conclusion
Overall, the Rhino is a well-known and popular gentlemen's club with locations worldwide.
While they have some great reviews, there are also some negative aspects to the club that a few customers claimed to experience.
The prices for drinks and dances can be on the expensive side, and you may feel pressured into buying more than you intended. Additionally, the club can get very crowded, which may not be ideal for everyone.
However, if you are looking for a fun night out with beautiful women, then Spearmint Rhino is definitely worth checking out.