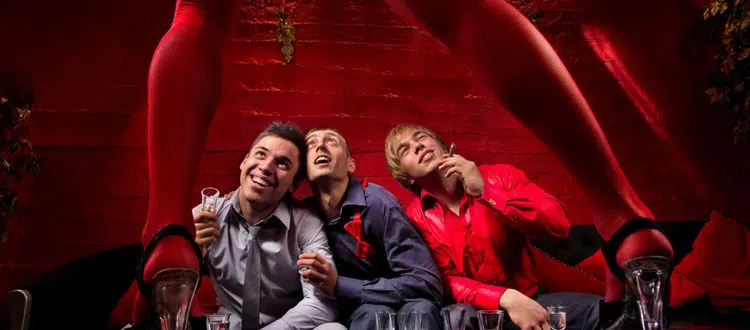 First Time Strip Club Goers (Vegas Virgin's Bible)
If you're brand new to strip clubs or you've never been to one, your idea of a strip club probably comes from movies you've seen on HBO or Cinemax. It's probably best to avoid doing things you saw on TV, because that's the kind of behavior that will get you tossed out of the club and banned from ever coming back.
You don't want to have a terrible first time strip club experience. We want you to lose your virginity with grace. If it's your first time at a strip club in Las Vegas or anywhere across the country, here's some all-around proper etiquette to follow.
Do Not Text During a Lap Dance or Performance
This is one of those things that's a very quick way to get your phone snatched out of your hand or the quickest way to offend a performer.
When girls are on stage performing and you're sitting right at the stage, your attention should be on her. Don't be afraid to look, she wants the attention and she craves the attention you give her. Don't let yourself be distracted and if you are getting distracted, simply leave so someone else can take your seat at the stage.
Phones need to stay in the pocket; at some places they are even confiscated at the door for the time you're in the club. While this isn't common in Vegas, it's the norm in other cities and first time strip club patrons can be caught completely off guard.
Don't Try to Negotiate a Dancer's Fee
If there's one thing that dancers appreciate, it's a gentleman who doesn't come to the club broke. Coming to the club broke just to gaze at naked women is one of the biggest turn offs to any of the dancers.
Word spreads around fast if you're a broke mark and once you have that title, good luck shaking it off. If you don't like the price that a dancer or club has presented you, you can simply say no thanks. Don't sit there and try to negotiate a price. Lap dances generally start at $20, and if that's the price she gives you there's no reason to haggle.
Don't Record the Dancers
Another thing that dancers don't like is when you record them without their permission. A lot of clubs don't let you even use any kind of recording device while in the club and as noted above, most of them prefer that you leave your phone in your pocket.
It's not only rude but a lot of dancers feel like it's a violation of their privacy to secretly record them where you'll inevitably put them on YouTube or Facebook. In some states, it's even against the law to record public dancers. I doubt you want a court case for your first time strip club experience.
Always Keep It in Your Pants
This is a real thing that some dancers have to put up with and it's the quickest way to get yourself kicked out of the club. Some guys for whatever reason, especially the people who are enjoying their first time at a strip club, feel that they're entitled to take out their junk and start messing with themselves.
This will never work and no female dancer wants to see that. If you ever do this, you might get a good slap to the face and the bouncer will promptly escort you out of the building.
Be Respectful to Other Dancers
Before you talk to a dancer, keep in mind that these girls work with each other all the time. They're good friends and they all talk to each other, frequently. They talk about men who don't tip well, men who are too touchy, men who are gentlemen. and anything else you can think of.
For this reason, it's highly recommended that you don't trash talk any of the dancers, even to other dancers. You're not being cute or paying the girl any compliments. She'll more than likely be offended and you can kiss your chance of a private session goodbye. General respect is one of our primary rules of strip club etiquette.
Don't Expect Sex
This is a huge one. So many newcomers to the strip club think they're entitled to sex because after all, the girls are naked and dry humping me, so why wouldn't they want more?
If your first time strip club experience has the expectations of getting laid, think again. This is first and foremost a job for these girls. They're trying to support themselves: they don't live to grind on horny men and they definitely don't commonly sleep with them.
Do some people get laid at strip clubs or go home with a girl they meet at a strip club? It can happen, but this is so rare and television shows have distorted people's views of what actually happens in VIP rooms.
In the strip club, as in life, you have to build a connection with a girl before you can even think about asking to meet with her outside of her work place. Remember, a lot of these girls are beautiful so they're more than likely going to have boyfriends or significant others already. If not, they have a ton of guys already all over them.
Unless you're bringing something to the plate all those other guys can't, she's not going to be overly enticed by you. Nor will any girl think your wallet is that impressive. These girls see rich ballers all the time willing to spend $500 for an hour with them alone.
We won't stop you from running game though. People do get lucky.
Don't Touch
This is a very common rule: you should never ever touch a dancer without explicitly getting permission from the girl first.
Just because the girl is rubbing her breasts in your face, and you can feel her soft skin fully pressed against yours, doesn't give you an excuse to start groping her or touching her. Some girls don't really mind when you get hands on, but you should always be respectful during a lap dance.
You can ask if touching is allowed first. Some clubs have a strict no touching policy, but Las Vegas strip clubs tend to be fairly open on this point.
Bring Cash
Always make sure you have cash on you and you bring plenty of it. It's highly unattractive to see a man walk into the club who didn't bring any cash, only paid for the cover charge and drinks, and wants to stare at women all night.
That's not all. If you didn't bring cash, you'll have to use the strip club's ATM and that's not something you want to do. A lot of those ATMs charge up to $20 fees just for using them.
Important: Do Not Take a Taxi, Uber, or Lyft
Taxis are one of the biggest tourists traps out there when it comes to strip clubs in Las Vegas and other cities. This includes Uber and Lyft drivers as well.
It's not uncommon for taxis to simply ignore where you want to go and take you to the club that pays them the most for bringing you there. For this reason, when you approach the door of the club, you'll be charged a $50 to $100 cover charge.
This is to cover the extra money they're giving the taxi for bringing you there. The taxi driver must get paid for bringing you, and they take that payment from your cover fee.
Taxi, Uber, and Lyft drivers will also lie and try to tell you not to visit other clubs for made up reasons because those clubs aren't paying them as much.
Ready to Book Your First Time at a Strip Club?
We want your first time at a strip club in Las Vegas to be a memorable one. We don't want you to leave with a bad memory or bad recollection of events.
When you need to get to a strip club, you don't know where to go, and you don't want to get ripped off – please call or text us at 702-755-1766 for options and information. We'll walk you through all the options and make sure you get the best deal.
When you book with us, you won't have to pay a single penny for the cover charge. You'll be able to walk right in past the line and not pay a cover at all. We'll not only pick you up but also transport you back to your hotel for free when done, as part of any of our two drink packages.
Your limo ride and your admission are always free through us. The only requirement is that you order two drinks when you arrive (which you were probably going to do anyway).
Grab a drink, loosen up, and enjoy your first time strip club experience with us.