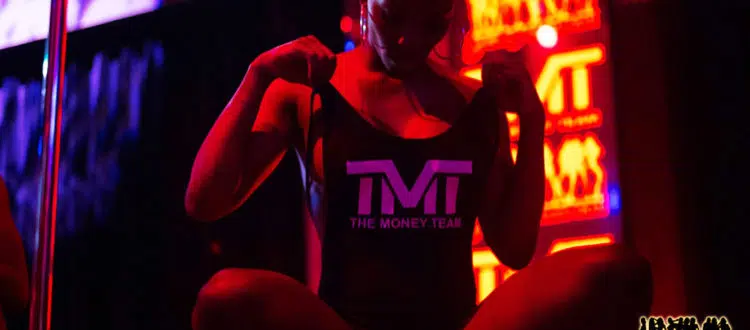 Girl Collection: Mayweather's Strip Club [2023 Guide]
Officially opened in late 2017 by Floyd Mayweather himself, Girl Collection Las Vegas is still the newest strip club on the scene.
But despite being one of the most hyped strip club openings in Vegas history, Girl Collection has been hit with mixed reviews in its initial few years.
Many patrons have taken their complaints online: some mention the lack of professionalism from the staff, and others joke about the shoddy management (as if big Floyd is supposed to run the place himself).
Like this one Redditor who pointed out a glaring issue with the bottle service menu:
Girl Collection is still a pretty new strip club, so not much is known about it; the one thing everyone knows is that its "ran" by Floyd Mayweather himself.
Floyd's plans for the place, and actual involvement in its operation, is another story. What happens when a billionaire opens up a strip club for himself?
Girl Collection: Full Strip Club Review
We decided to take a careful second look at Girl Collection Las Vegas, and hit you with only the facts about Mayweather's personal strip club.
We want you to decide for yourself if it's worth the trip over.
Girl Collection Hours & Key Info
Days Open: Temp. Closed [Updated for 2023]
Hours of Operation: 9pm-6am
Best Nights to Go: Fridays and Saturdays
Busiest Hours: 10pm-2am
Bottle Service / VIP Pricing: $$-$$$
Music: Hip Hop & Top 40
Dancer Quality: 7/10 & Up
Coolest Features: Mayweather's strip club, TMT sponsored, 4 different VIP areas
Dress Code: NO shorts, hats, sweatshirts, tennis shoes, sandals, or flip flops (we suggest reading our full Las Vegas strip club dress code rules)
Where is Girl Collection Located in Las Vegas?
If interested in checking out Girl Collection for yourself, please know that at this time the club does not offer the same free limo pickup deals as some of the other major strip clubs.
Something special is rumored to be in the works though (read below).
Girl Collection is located in between The Strip and Downtown Las Vegas, close to the Stratosphere hotel. If you're staying at the Stratosphere or Circus Circus, you can probably make the walk, but just know the route could be sketchy.
If going during the early evening, you could also stop by the famous Count's Kustoms chopshop, located almost next door. Other than this attraction, the area is fairly removed from the action of The Strip and Downtown Las Vegas.
We definitely never suggest taking an uber or cab to the strip club, but in this case it's likely your best bet to get to Girl Collection safely.
Girl Collection Cover Charge
If you're a guy, you'll generally end up paying $50 to get in. On most nights, females actually end up paying the same $50 cover charge at Girl Collection.
Occasionally, the entry fee is reduced to $30 for girls at the bouncer's discretion.
You may not realize it if you normally take advantage of free limo pickup and entry deals, but a $50 cover charge is actually a standard or lower-than-average entry fee at any top Las Vegas strip club.
At this time, Girl Collection does not offer any locals discounts or early bird discounted admission. Plan on paying the full price.
Warning: If you do decide to show up in a taxi or uber, there's always a chance you'll be charged slightly more by the door to compensate the driver.
Or Choose a No Cover Strip Club Instead
Parking at Girl Collection
If you're determined to get to Girl Collection, currently the best way is to drive yourself. This is easy for Las Vegas locals, but often not an option for tourists.
Note: You'll also have to park your own vehicle, because the venue currently doesn't have their own valet parking staff.
The Interior of Girl Collection
When you first walk into Girl Collection, you'll notice just how dark it is. It has a very romantic and intimate vibe to it, but this could be for a couple of different reasons.
Legend has it that Floyd likes his scenery dimly lit because of the way it hits the topless dancers.
When you first enter the club, you'll probably notice the array of small VIP booths and stage seating, which can accommodate up to about 50 people.
This area is also home to three separate stripper poles: an oversized pole to the right stretches up to the ceiling and features its own VIP Booth ("The Red Zone").
Beyond the general seating, you'll see a door to the left that leads to three more areas of VIP rooms.
The interior is very well done. Once you sit down, you oddly start to feel at home in Mayweather's house, surrounded by the heat of the action and the warm lighting.
If staying on the main floor of Girl Collection, we recommend reserving the VIP booth to the right with its unbeatable view. You get your own JumboTron televisions, and your own view of the dance floor; your booth is level with the main performance stage.
This special VIP booth on the main floor is only one of the places to reserve bottle service at Girl Collection Las Vegas. The strip club offers four private VIP rooms in addition to an immense main floor.
Girl Collection VIP Reservations
There are four essential VIP "zones" within Girl Collection. Each room has its own benefits and unique amenities, but you won't be disappointed by any particular one.
While Girl Collection does take bottle service reservations ahead of time, you likely won't have a problem showing up the night of and requesting placement in any particular VIP room. This is generally true for any weekend other than major holidays (Memorial Day, Labor Day, etc) and fight weekends.
Red Zone
First up, there's a place called the Red Zone. This has the main view of the club and is still considered to be on the main floor. It's probably one of the best views in the club.
The pole in front of you, inside the Red Zone, is a 20-foot super pole where some dancers can do some pretty amazing things.
The Red Zone, while a private VIP section for your party, is still attached to the main floor and allows for a more social seating option.
This section holds up to 15 people, so the Red Zone is great for partying with a medium to large size group.
Please Note: this is the most sought after section and usually the highest priced. But you didn't really expect anything to be cheap at The Money Team's strip club (see full pricing below).
Den Lounge
The Den Lounge features a massive seating area with a completely private stripper pole. This is one of the most exclusive rooms in the club, and not really anywhere near the main floor or stage area (i.e. very private).
You completely control the music in the Den Lounge at Girl Collection, allowing you to fully immerse yourself in the experience.
If you don't like the hip hop being played on the main floor, you're welcome to reserve this section for your own private house or EDM party.
Note: The Den Lounge is made for larger groups. This VIP Room accomodates up to 50 people.
VIP Black
Let's say you like the Den Lounge but you're looking for something a bit more exclusive than that. Girl Collection in Las Vegas has no room more exclusive than "VIP Black."
This VIP Room is Girl Collection's pride and joy, and made for your comfort and privacy.
In addition to your group's private JumboTron televisions, you'll have an immaculate skybox view of the main floor and stage.
Did we mention? You also get a private bar all to yourselves as part of your reservation in VIP Black.
Featuring your own private entrance and service staff, VIP Black can accommodate a slightly larger number of guests (20 people) than the Red Zone (15 people).
We feel this makes it a better choice for your reservation than the more popular Red Zone on the main floor.
Private VIP Rooms
Tired of socializing and want to hit the more intimate rooms?
Girl Collection has 9 different private VIP rooms available for your own comfort, lap dances, or whatever else you might be interested in.
There's also built in TV monitors in each of these private VIP rooms (but we have a feeling you won't be paying any attention).
The sound systems in these room are incredible, so you'll hear the music in crisp, smooth, and crystal-clear audio quality during your dance.
Girl Collection Bottle Prices
How much is bottle service at Girl Collection? The Money Team holds nothing back.
You'll find that bottle service pricing at Girl Collection is standard nightclub bottle pricing (strip clubs in Las Vegas typically price bottles cheaper):
A standard non-premium bottle (Absolut, Skyy, Captain Morgan) will run you $450-500, while a premium bottle (Grey Goose, Ciroc, Johnny Walker Black) will cost you $650+. Then there's tax, gratuity, and a service fee on top of your reservation.
Bottle Minimums (required amount of bottles purchased) for each of the four VIP areas will vary on a nightly basis, but they're generally as follows:
By no means will you be getting a deal on bottle service at Girl Collection Las Vegas.
If you want the full bottle service experience at a much cheaper cost, Sapphire offers the best deals and greatest variety of bottle packages.
The Girls
Honestly, we're not too impressed here. Don't get us wrong – the girls are hot – but they're nothing like the quality of dancers found at Crazy Horse III or Sapphire.
We just expected a different level of hotness from Floyd Mayweather, at least when it comes to stocking his own club (or "collection" rather).
They're easily 7/10 and definitely won't disappoint you, but the dancers are nowhere close to the 9/10 and up like that some people were expecting. Floyd seems to prefer a specific type of girl that may not appeal to everyone.
The hospitality of the girls is another thing: all the dancers were courteous and friendly to us, and generally a pleasure to be around. No aggressive hustlers in the mix.
Back when Mayweather arrived at his strip club opening, in the midst of his epic fight versus Connor McGregor, he showed up with nearly two dozen gorgeous topless dancers.
Sure, this was a publicity stunt. But we'd expect at least some of these girls to still be working here.
The Verdict: Girl Collection strippers are hot, but there aren't any Vegas 10s in the lineup.
If quality of the girls is your top priority, there are much better and less expensive strip clubs to visit in Las Vegas.
You can always call us directly at 702-755-1766 for the best options. We'll reserve a complimentary limo pickup and waived admission for your group.
Girl Collection Lap Dances
Lap dances at Girl Collection Las Vegas start at $20, like most other strip clubs in town. The private VIP rooms can be rented out for the standard price of $100 for 3 songs.
Longer stays will depend on the dancer and precisely what you negotiate with her.
Lap Dance: $20-30
VIP Room: $100 / 3 Songs (Longer: Negotiable Rate)
Food Options at Girl Collection
Let's say you're tired of watching the dancers, and you want to get a bite to eat. What food choices does Girl Collection have to offer?
We ordered a feast here, and the chicken wings are our go-to from now on. You can get them either naked or breaded, and they're one of the cheapest options on the menu. The chicken tenders get an honorable mention.
Food Menu
Girl Collection has a surprising number of entrees and side-dishes, so you'll have to ask for a menu when you get there. There are daily specials but here's the standard food menu:
Girl Collection Drink Prices
We were expecting drink prices at Girl Collection to be a lot higher here than they turned out to be.
After all, Floyd Mayweather loves his money and often carries it around in a giant duffel bag. Drink prices at his own strip club Girl Collection have to be through the roof, right?
That may be the case for bottle service, but not for drinks.
Most beers come in at the very low cost of $10 each (by Vegas standards). Cocktails will vary between $12-15.
Game Day & Fight Night: Boxing, UFC, and Football Promotions
If you're looking to watch the big game or a seminal boxing match, there are plenty of wide screen TVs and JumboTrons on the main floor. Las Vegas boxing fights are obviously taken very seriously at Girl Collection.
Hosting three separate stages and multiple bars, the main floor offers the perfect arena to view UFC fights and football as well. Girl Collection's Twitter account offers the best way to stay up to date on special sporting events and promotions.
In general, their football, UFC, and even boxing promotions often do not come close to the deals offered at some of the top strip clubs in Vegas. Mayweather is out for his money like usual.
The Wrap-Up: Is Girl Collection Worth a Visit?
Girl Collection is a promising club, and still very new to the Vegas strip club scene. What it needs is a little more hands on management, smart marketing people, and some of the complimentary transportation deals other major strip clubs have in place.
As it stands, Girl Collection Las Vegas is not much more than a tax write off.
That being said, its still very fun to visit and becoming more of a tourist attraction. We'd love to hear about your Girl Collection experience on Twitter and Instagram (links below), and see if your experience matches ours.
Top Las Vegas Strip Club Deals
Bonus: Girl Collection's Rolls Royce Shuttles?
We promised you a bonus, as we've heard of something special in the works here.
When Floyd Mayweather first opened up Girl Collection Las Vegas, he stated that the official transportation to the strip club would be handled only by "high quality Rolls Royces."
Nothing was done towards this elaborate promise until now. The club has recently expressed renewed interest in making this happen for its customers.
According to this Yelp review from a Vegas cabbie, there's at least one Rolls Royce almost available for service. But as we warned earlier, the door staff is cover gauging when you arrive in an Uber or taxi:
Until the Rolls Royces start rolling out in droves for complimentary transportation, we suggest putting a trip to Girl Collection Las Vegas on the back burner.
There's many other places in Las Vegas that deserve your business and have the means to get you there safely.
Call or text us anytime at 702-755-1766 for help at the strip clubs in Las Vegas. Our agents are ready to set your group up with complimentary limo transportation and entry anywhere you choose.