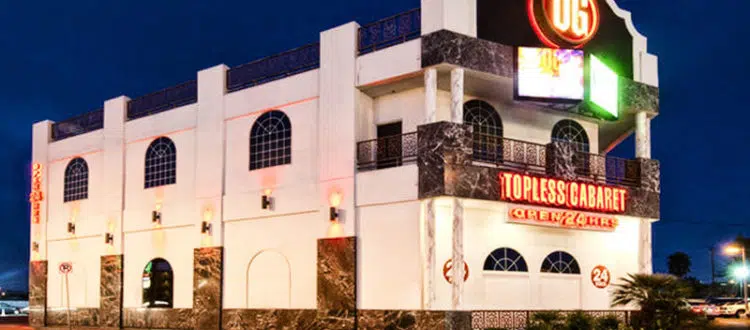 Olympic Gardens OGs Las Vegas Story – What Now?
Olympic Gardens Las Vegas, also known as simply "OGs," was a popular strip club with many mixed reviews. In these reviews: people claimed the dancers had poor hygiene, the staff was rude, and shared a slew of other negative comments.
Still, this strip club was insanely popular.
Did you go during OG's Las Vegas heyday? You'd know what we mean.
In case you didn't know, Olympic Gardens Las Vegas was shut down permanently on October 23, 2016. This decision came after mounting legal battles, drama behind the scenes, and disputes between management that had been building up for years.
The Peppermint Hippo took its place in early 2022, but with rumors of a separate lawsuit already brewing, we'll see if it can remain.
OGs was best known for its male strip club and the OG's male revue show, but the venue also supported a gentlemen's club with many of the hottest female dancers as well. It offered the best of both worlds.
You're probably wondering: Where do I go now that OGs Vegas is closed?
We'll give you the second best options below. But first, its story time…
Olympic Gardens' "OG" Las Vegas Story
One of the biggest lawsuits came from a former employee who opened a case against Olympic Gardens Las Vegas, after he claimed that he was denied his minimum wage pay.
Not only is this wrong but it's highly illegal and can land an owner in hot water if found to be true.
The Major Lawsuit
The worker's name was Bryan Gonzalez. He claimed in his lawsuit that he wasn't compensated for working as a bouncer for the club. However, difficulties arose in the case because his duties detailed more than just working as the doorman. Here's what Gonzalez claimed his duties were:
Checking IDs of anyone wanting to enter
Facilitating the payment to cabs and limo drivers for bringing customers to their club
Making seating arrangements and leading the customers to tables
Handling all security issues and guarding both the entrance and exit
He was also required to stay after the club closed and escort the dancers to their vehicles so they could get home safely
He claims that he was an employee for over three years and spent many weeks working over 40 hours a week. The lawsuit states that Gonzalez was denied minimum wage for the time worked for roughly 6 months and that he was also denied overtime, which is highly illegal.
Sadly, Gonzalez didn't have much of a leg to stand on because it had been past the date on which a lawsuit could've been filed. Ultimately, the lawsuit went nowhere, and when the owner was reached out to for comment nothing was provided.
The Auction of Olympic Gardens Las Vegas
Despite all of the mounting legal troubles and controversy that surrounded the club, when the club first went up for sale people were lining up left and right to purchase the closed down OG Las Vegas strip club.
While the place may have had terrible management, the Olympic Gardens Las Vegas property was still a wise investment choice because it was at a prime location between the Strip and Downtown. No matter what night it was, tourists and locals were always buzzing about the area.
Strip clubs like OGs in this prime area of downtown Las Vegas can make millions of dollars a year, but unfortunately family issues began and then the court cases ensued.
They say to never go into business with family, and this story is no exception.
The Indictment
The former strip club then started receiving millions of dollars in bids, ranging from 8 million to 12 million. The bad publicity still didn't stop for former owner Mr. Eliades, despite the club getting legitimate offers. During the bidding war, one of his long-term business partners and close associates, Emmanouil Varagiannis, was arrested and sentenced to 15 months in a federal prison for tax evasion.
There's a reason this came to light. While under IRS investigation, Eliades made the mistake of hiring him to help drum up offers on the old OG Las Vegas strip club. He thought he would be a valuable asset in getting the most out of his property, but he couldn't have been more wrong.
The Accident
During 2007, a bizarre accident occurred when Afroditli Eliades-Ledstrom got behind the wheel of a vehicle and swerved into the wrong lane of traffic. The car fatally struck and killed another motorist named Michael Ponzio.
Ponzio was a 26-year-old college student. You'd think at this point that Eliades would do the right thing and pay the settlement (to the tune of $10 million) as ordered by the court.
Eliades instead declared bankruptcy, which resulted in a far lower sum than what was originally proposed.
The OG Las Vegas Tragedy Ends
All of these events in addition to minor discrepancies, such as dancers not being paid, unsafe work conditions, and poor management eventually lead to the club having to close down completely for the time being. Many feel it was the right thing to do, and that OGs should've been closed down some time ago.
While the former team of Olympic Gardens has since moved to Sophia's Las Vegas, there are no male strippers here.
So the question remains: where do ladies (and men) go for the hottest male strip clubs and male revue shows in Las Vegas?
Best Alternatives to OGs Male Strip Club?
The Kings of Hustler and Men of Sapphire shows are the two best options for hot male strippers in Las Vegas. They offer the friendly and relaxing environment of a male strip club, while also brining on the high-energy, fun, and vibrant atmosphere of a larger scale Vegas male revue show. Most importantly, we can get you there and in the door for free. All you pay for are your drinks, as an all inclusive package.
Take advantage of the affordable specials and fun times to be had at both of these strip clubs. They're both really close to the The Strip and Downtown Las Vegas too, so you won't have to travel too far.
Men of Sapphire
We believe the best male strip club following the demise of OGs Las Vegas is the Men of Sapphire show.
While Men of Sapphire feels more like a male revue show rather than a male strip club like OGs, the 2.5 hour run time is extra long, and allows you to come and go as you please.
Men of Sapphire has a lot of exotic, hunky men who put on a really entertaining show. It's not your standard stage performance: the dancers really go out of their way to honor special requests and make your bride or birthday girl feel like a queen.
The men are incredibly hot while also incredibly diverse. So no matter what your lady friends are into, they'll definitely find a piece of meat hot enough to play with at Men of Sapphire.
Hours & Info
Days: Thursday – Sunday
Times: 10:00pm – 12:30am
Location: Opposite half of Sapphire Gentlemen's Club.
Two Drink Entry Package
$35 / Person
Two Drinks
Complimentary One-Way Limo Transportation
VIP Entry (Skip the Line)
Priority Seating (If Available)
Champagne Bottle Deal
$40 / Person
ONE Bottle of Champagne for Every 4 Girls
Complimentary One-Way Limo Transportation
VIP Entry (Skip the Line)
VIP Table at the Show
Exclusive Champagne Bottle Deal
This is by far the best way to see the show. Men of Sapphire offers an exclusive VIP Table and comp champagne bottle deal.
For $40/girl you'll receive: Limo from your Hotel to the Show, VIP Entry Past the Line, and One Bottle of Champagne for every 4 Girls in your Group.
This is an amazing deal especially for larger groups (e.g. 20 girls get five bottles of champagne).
Standard Entry Package
If you're really on a budget and monitoring costs, Sapphire's male revue does offer a slightly less inexpensive entry package at $35/person.
This package comes with two drink tickets good for any cocktails or beers. However, this package does not guarantee seating at the show (well worth the extra $5).
Kings of Hustler
Kings of Hustler Las Vegas is a true male strip club experience. Located on the third floor of Hustler Club, its been a staple on the scene for years.
Without a doubt, this is also one of the best options for a male revue experience, providing many themed elements and callouts during the performances.
It's also just a nice, clean, and affordable place for you and all of your girlfriends to go and enjoy without any hassle. Kings of Hustler features the longest run time of any male strip club performance in Vegas, with each night's show lasting six hours long.
Many say the men of Hustler provide the greatest variety. If your favorite flavor happens to be chocolate, this might be the male strip club for you.
They do quite a lot of specials on weekends but have limited availability for their Sunday Open Bar packages. This is by far the most popular night to go.
Hours & Info
Days: Thursday – Sunday
Times: 8:00pm – 2:00am
Location: Third floor of Larry Flynt's Hustler Club.
Two Drink Entry Package
$40 / Person
Two Drinks
Complimentary One-Way Limo Transportation
VIP Entry (Skip the Line)
Priority Seating (If Available)
Open Bar Package (SUNDAY)
$50 / Person
OPEN BAR (8PM-12AM)
Complimentary One-Way Limo Transportation
VIP Entry (Skip the Line)
VIP Table at the Show
Two Drink Entry Package
Similar to the deal at Hustler's main strip club, the male revue show offers a two drink entry deal. We provide free limo and free entry to this show with the purchase of those two drinks for $40/person total. This deal is available Thursday, Friday, and Saturday night.
Kings of Hustler Sunday Open Bar Package
Sunday is a great night to hit up Kings of Hustler. The club offers an all inclusive four hour (8pm – 12am) open bar package at $50 per person on this night only.
Ride with Us & Get in For Free
Also: don't ever call a taxi or Uber to get to a strip club. They will try to scam you and you'll be charged far more. That much hasn't changed since the days of Olympic Gardens Las Vegas.
Instead, you can ride with us absolutely free and get in for free. All the above packages include complimentary limo and entry with drink package purchase.
We'll pick you in a swanky limousine or party bus (depending on group size), and drive you from your hotel to either of the locations in style. Once you're there, we'll make sure you skip the line and get in the door without a cover charge.
Contact us today at 702-755-1766 or sign up online to reserve your complimentary limo pickup.