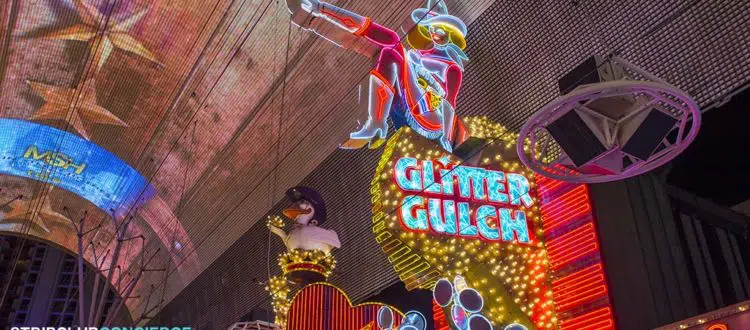 Life After Glitter Gulch: Downtown Vegas' Best?
For anyone who had the pleasure of visiting this iconic venue before it closed its doors for good on June 27, 2016, the Girls of Glitter Gulch will always remain a fond, if not passionate memory.
For those of you who never had the chance to enjoy the seductive atmosphere and quiet ambiance, the GGG may always be the stuff of legends. Since then, the people have been waiting for the next best Downtown Las Vegas strip club.
Glitter Gulch: A Las Vegas Story
Glitter Gulch Las Vegas was the first and only strip club located directly on Fremont Street in the heart of the action. It was also the major strip club in Downtown Las Vegas overall.
The area no longer has any strip clubs that are easy to walk to and access. Glitter Gulch made it easy to stop into a strip club at your leisure when staying at a hotel like Golden Nugget or Downtown Grand near Fremont Street.
If you're staying downtown, your best option now is to call us at 702-755-1766 for a free limo ride to any of the major strip clubs off the Las Vegas Strip. You'll also get free admission when you ride with us, so don't worry about paying any cover.
Fremont Street's Strip Club
The "Girls of Glitter Gulch", as it was commonly called, featured a long catwalk for their gorgeous dancers to parade down. It was something like a fashion show. The only difference was lots of skin and not so much fashion.
The raised runway stage had three poles for the girls to do their thing. If you looked closely at the crowd, you may have recognized some of your favorite pornstars and centerfold ladies in the heyday of Glitter Gulch's elaborate strip club.
Acts like Goldie Star were often highlighted and made for some unforgettable evenings. Some years before the final closure, Glitter Gulch underwent a $3.5 million-dollar facelift.
Regulars and tourists alike loved the refurbished "Vegas Vickie" sign that lit up the front and provided a little classic Vegas appeal. The sign still remains although the strip club has gone.
Why Did Glitter Gulch Close?
The reason for the closure of the Glitter Gulch strip club was a huge, simultaneous restructuring project for several downtown venues. Casino magnate Derek Stevens and his brother Greg oversaw the project, which included Mermaids and La Bayou as well.
Together, these three clubs and casinos were vital to the rapidly expanding empire that the Stevens brothers were building on Fremont Street and further afield in Downtown Las Vegas.
The brothers are also owners of the Events Center in Downtown Las Vegas. Girls of Glitter Gulch and Mermaids were next to what was formerly the Las Vegas Club, and La Bayou and Golden Gate were neighbors.
Signs of the Times: Vegas Vickie & Vegas Vic
The establishments purchased by the brothers all had long, interesting histories. La Bayou had originally started as the Las Vegas Coffee Club. By 1920, it had morphed into the Northern Club, which had the distinction of being the first Nevada club to obtain a gaming license.
Glitter Gulch and Mermaids were famous for their characteristic neon signage. Glitter Gulch's "Vegas Vickie" was particularly well known. Vickie was the partner sign to Vegas Vic, and at one time the two were even married!
GGG also had another iconic sign above it known as the "Golden Goose" just next door.
La Bayou and Mermaids
La Bayou was famous for its daiquiris and Mermaids for its delicious fried Oreos and Twinkies. Regular customers still mourn the loss of their favorite snacks. It is said that on the final night when the food counter announced that the snacks were finally out of stock, there was even an audible groan of distress from the customers.
Looking at the big picture, the Stevens brothers' takeover heralded a change for the better for Fremont Street and the neighboring establishments. Legend has it that Derek Stevens bought La Bayou to prevent a CVS pharmacy from replacing it.
Fans have a long wait, however, as the new casino and hotel probably won't be finished before 2021.
A Fond Farewell to the Downtown Strip Club
Its also said that on the night the venue closed for good, customers at Glitter Gulch refused to leave, even though the music was turned off and the lights were turned up. Patrons of Mermaids and La Bayou came out in droves to say a final goodbye. When the last closing time drew near, employees exchanged tearful embraces, and performers and strippers came to say farewell.
Customers were also given strings of beads, known to all as a symbol of good times had at Mermaids and La Bayou.
These three gems in the Glitter Gulch group will never be forgotten. They were the starting point for many Las Vegas adventures. GGG's closing was a little bit of an anticlimax. There was no fanfare when the doors closed abruptly at 4:00am. Mermaids and La Bayou closed on the same day even earlier at 11:00pm.
The Party Goes On
Despite the loss of these never-to-be-forgotten clubs, the party goes on and we're here to ensure you don't miss it.
We run a complimentary limo service from any downtown Las Vegas hotel to the best strip clubs just off the main Las Vegas Strip. Call us anytime at 702-755-1766 to book your reservation.
The hottest strip clubs are no longer in walking distance from Fremont St. and Downtown, so car service is necessary for folks staying up in this area. But please, always avoid taking a Taxi, Uber, or Lyft and getting whacked for extra cover charges and fees at the door.
We'll send a free limo to pick you up at your hotel in Downtown and also make sure your cover is free for all guests when you arrive. All that's required as part of our deals is that you purchase two drink tickets at the door when you arrive (good for any premium cocktails or beers).
Second Best Strip Club Options
As an alternative to Glitter Gulch, we recommend as our #1 choice: Treasures Las Vegas.
Close to Downtown Fremont, this strip club offers live, on-stage entertainment, a swinging late-night scene and an unbeatable VIP experience. It's also great for coed groups of guys and girls looking for a fun afterparty, touristy vibe.
For those who want something a little more restrained, we recommend the Crazy Horse III for an intimate evening of small-stage dance displays and gorgeous girls.
Wherever you want to go, we're waiting for your call at 702-755-1766. We'll go over all the options and personally schedule your pickup for you.
Glitter Gulch was an unforgettable experience but like we say in Las Vegas, the party always goes on!